Traffic nightmare on I-5 snarls area roadways


SEATTLE -- An overturned FedEx truck headed southbound on Interstate 5 near the Washington State Convention Center crashed Wednesday morning, blocking all lanes of the roadway and causing traffic headaches for commuters for most of the morning hours.

All lanes of traffic were blocked from James Street to I-90 because of the jack-knifed semi that also caught on fire at 4 a.m. The truck driver lost control of his vehicle and crashed into a barrier, Washington State Patrol officials said. The semi-truck caught on fire shortly after the driver managed to escape through a broken window.

Traffic backed up shortly after the crash, and cars were forced to exit on James Street, and the backup was at least five miles long at 7 a.m.

By 9:10 a.m., two of the left lanes were opened, but traffic remained heavy as crews worked to completely clear the crash. Fuel was seen leaking out of the vehicle, possibly delaying its removal. At its worst, the traffic extended for eight miles.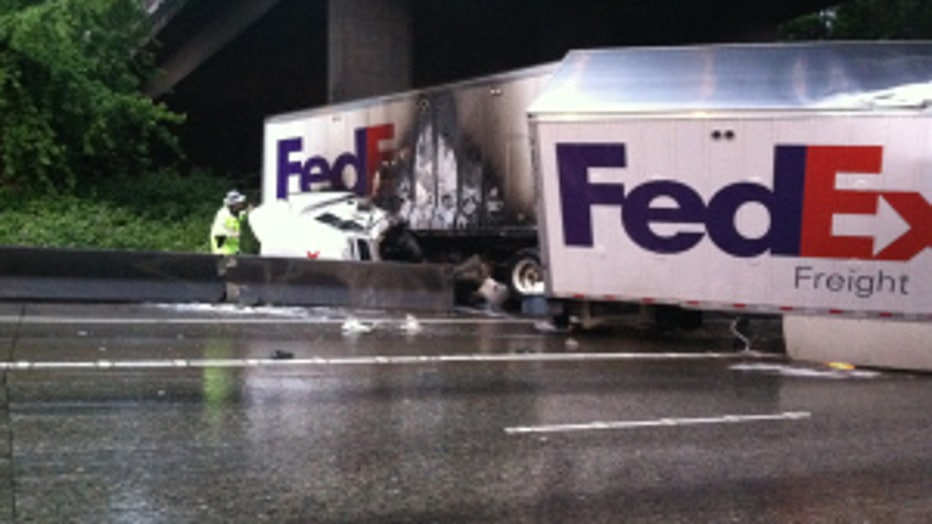 Drivers were encouraged to use the express lanes or State Route 99 as alternative routes.

Other accidents were also reported in the traffic caused by the overturned semi-truck.A large tow-truck was necessary to remove the semi-truck.

The crash impacted traffic around the Puget Sound, with multiple backups and crashes reported. As of 8:20 a.m., WSDOT reported a commute time of 113 minutes from Everett to Bellevue. In an unrelated incident, a logging truck lost its load westbound on State Route 18 near SR 167. All lanes were completely blocked at 10 a.m.

Drivers and police officer alike said the traffic was a "nightmare."

"All around this is a big pain," said WSP Trooper Julie Judson. "But we are really lucky and it could have been much worse."



[trib_ndn vid=24849300]