TRAFFIC ALERT: SR 520 bridge closes Saturday night -- Monday morning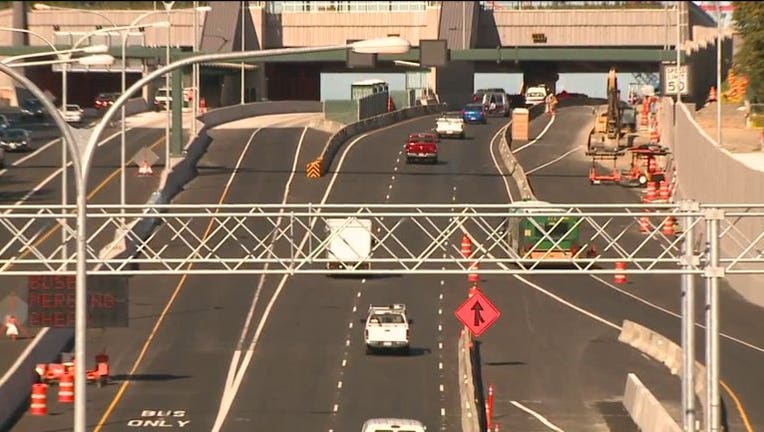 SEATTLE -- Drivers, be warned.

If you need to get across Lake Washington, don't plan on using the SR 520 bridge Saturday night at 9:00 through Monday morning at 5:00.

All lanes of the bridge will be closed in both directions from the I-405 interchange to Montlake Boulevard, according to WSDOT.

Crews are putting the final touches on the new high-occupancy lanes between Bellevue and Medina.

"We're almost done with more than three years of work on the Eastside" said project engineer Mark Allison. "We've already opened two new transit stops, paved six new mainline lanes, and on Monday, the HOV lanes will open."

The closure will not start until after the Huskies football game so fans can use the bridge when the game ends.

Here are some notes from WSDOT:

Weekend work






All lanes of SR 520 will close between Montlake Boulevard and I-405 from 9 p.m. Saturday, Sept. 13 to 5 a.m. Monday, Sept. 15.


The SR 520 ramps at 92nd Avenue Northeast will close from 4 p.m. Saturday, Sept. 13 to 5 a.m. Monday, Sept. 15 to complete paving of a new roundabout interchange.


Crews will also close several other SR 520 ramps and local Eastside roads and intersections at various times over the weekend, including 108th Avenue Northeast and 112th Avenue Northeast.


There will be no construction closures until after Saturday's University of Washington football game at Husky Stadium to accommodate fans attending the event.






New HOV lanes






When SR 520 opens to drivers on Monday morning, new HOV lanes will be available to three-person carpools as they were before construction began.


The lanes span approximately two miles between Bellevue and Medina. This heavily used stretch of SR 520 carries about 70,000 vehicles each weekday. The new floating bridge, when it opens in 2016, will also have HOV lanes.