Town of McCleary mourns after news that remains of missing Lindsey Baum found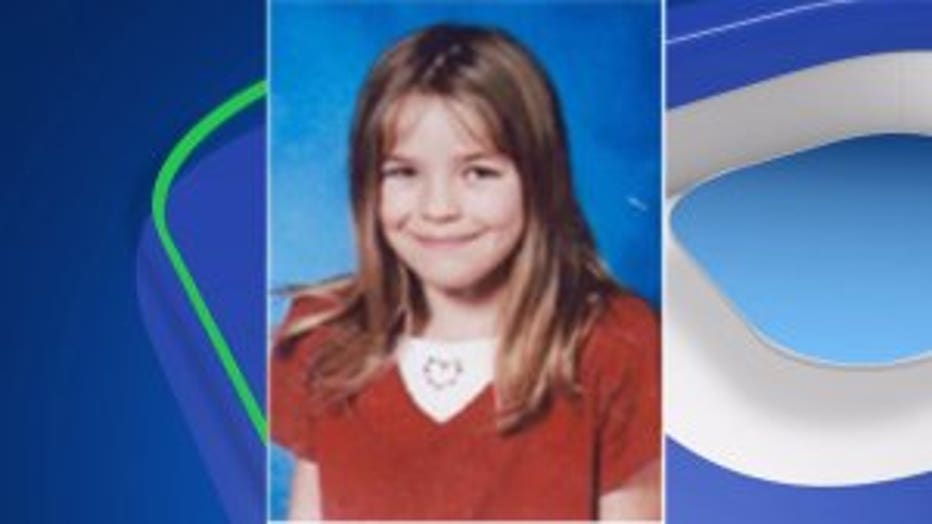 MCCLEARY, Wash. -- Officials announced Thursday the remains of Lindsey Baum, a girl missing from Grays Harbor County since 2009, have been found in Eastern Washington.

Grays Harbor County Sheriff Rick Scott said Thursday at a news conference that the remains were found by hunters last September.

The remains were then sent to FBI headquarters in Quantico, Virginia, for analysis. In the last week, authorities learned the DNA matched Lindsey Baum.

No arrests have been made. Scott said detectives are doing everything they can to find out who was responsible for Lindsey's death:

"In the fall of 2017, human remains were found in a remote location in eastern Washington. The remains were eventually confirmed to be that of Lindsey Baum, a 10-year-old girl who went missing in McCleary, Washington on June 26, 2009. In order to protect the integrity of the investigation, the location where the remains were found will not be provided until a later date.

The Grays Harbor County Sheriff's Office continues to work with the Federal Bureau of Investigation on this homicide investigation.

Anyone with information regarding this case is asked to call or email the Grays Harbor County Sheriff's Office at the below listed contacts."

Phone Tips: 1-360-964-1799

Email tips: baumtips@co.grays-harbor.wa.us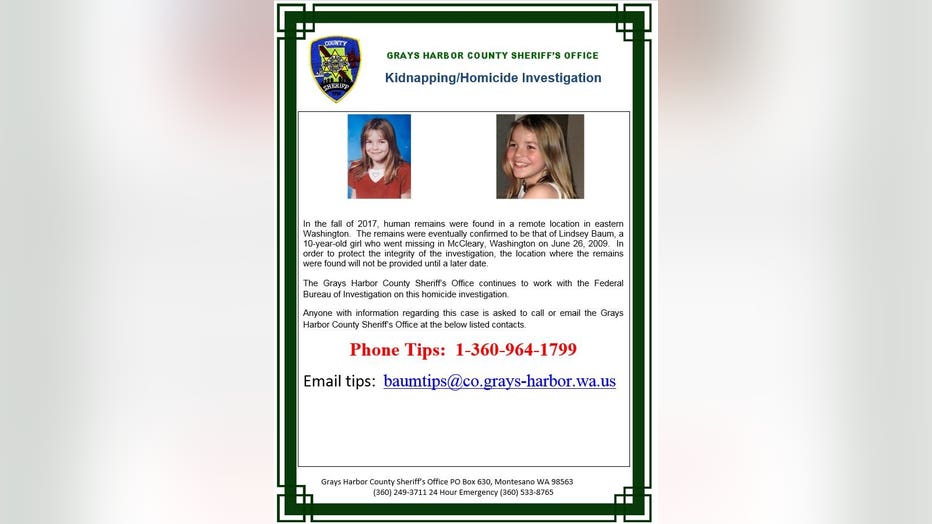 Grays Harbor Sheriff's Office


Authorities say Baum vanished nearly nine years ago from her hometown of McCleary, a small town west of Olympia. The 10-year-old was last seen the night of June 26, 2009, when she left a friend's home. She was going to walk the four blocks to her house but never arrived.

Numerous searches took place in the hours and days after she vanished, and bloodhounds were brought in, but no sign of her was ever found.

Her case attracted national attention in the aftermath of her disappearance.

The news regarding Lindsey's remains being recovered came as a shock to many people who attended Thursday's press conference in McCleary.




Investigators are so far staying tight-lipped about many of the details so far, as the real tough work for police is yet to come.

"Myself, my fellow sheriffs, the FBI and all of the law enforcement agencies who have been involved in this investigation will be involved as needed until we bring the monster that's responsible for this and hold them accountable," said Grays Harbor County Sheriff Rick Scott.

Law enforcement from across coastal Washington came to share the news that nobody was ready to hear.

"We've brought Lindsey home, we've recovered her," said Scott. "Sadly she was not recovered as we and her family had hoped and prayed these last nine years.

"We have a location that we can search forensically and that's being planned for the immediate future in the hopes of finding additional evidence that in a perfect world will point to a suspect," said Scott.

Police say the area where Lindsey was found is so remote, hunters are the only people who would normally go there.

Now police face a difficult task – figuring out exactly how Lindsey died and search for any clues that could identify the killer.

"It could be anything, quite frankly, from forensic evidence to something that will speak to cause and manner of death," said Scott. "I mean the gamut is wide open in regard to that."

Investigators have shared new fliers regarding this case hoping to drum up new tips that could solve the murder.


Timeline

Early Summer 2009– Melissa Baum and her two kids, Lindsey and older brother Josh, moved to McCleary, Wash, a town of fewer than 2,000 people. Melissa moved from Tennessee following a divorce.

June 26, 2009 (The day of Baum's disappearance) –  Lindsey spent the hot summer day at her friend's house, swimming in a pool.

She and her brother  returned home briefly and then went to another friend's house on Maple Street. Lindsey and her brother got in a fight – reportedly over a bike – and her brother returned home.

Lindsey asked if she could stay the night at the friend's house, but the friend's mom said no. Lindsey left around 9: 15 p.m. to return home. It was about a 10 minute walk back to her house (5 blocks). She was spotted on the streets by a neighbor between 5th and 6thStreets. It was the last time she was seen.

Around 10 p.m., Lindsey's mom called the friend's mom, who told her Lindsey had left an hour ago. Lindsey's mom called her cell phone, but it was left at the home on a charger. At 10:45 p.m., Melissa called police.

At her time of disappearance, Baum was 4'9″ tall and about 80 pounds. She has brown hair and brown eyes. She was wearing a light blue hooded sweatshirt, blue jeans, and black slip-on shoes.

November 2009 - Lindsey Baum's face was on the cover of People Magazine.

2010 – Police and FBI searched the home of a 47-year-old man provided inconsistent statements to police. No arrests were made.

2012 – Sheriff's deputies and FBI looked at the home of local shop owner and jewelry store owner, Tim Hartman. Hartman was called a person of interest. Law enforcement allegedly found ropes, and handwritten notes about Lindsey's disappearance. Again, no arrests were made.

2013 – An enhanced photo of an aged Baum was released.

2014 – Police investigated another man, but again no arrests were made.

A skull was found in a crab pot off the coast Grays Harbor County. Due to consistent rumors about Baum's demise, the sheriff's office specifically stated this was not Baum's skull.

Summer 2017 – Police searched the Mason County home of the Emery Brothers, who were charged for possession of child porn. The home was searched after children clothes and examples child exploitation were found in the brothers' Seattle home. Mason County is just 17 miles from McCleary. Cadaver dogs were sent to the property.

May 5, 2018 – Press conference.

Over the case, dozens of search warrants and hundreds of interviews have been conducted.