Too violent? Woods of Terror billboard has people screaming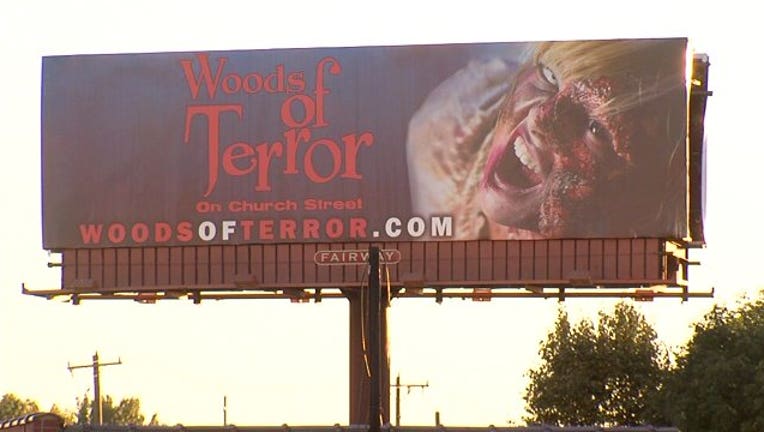 article


GREENSBORO, North Carolina (WGHP) -- Highway billboards in North Carolina promoting a popular haunted Halloween trail are being called too violent for the public by some passersby.

"I thought, that's kind of disturbing," said 8-year-old Russell Thomas, who first noticed the billboard advertising Woods of Terror last week. "Kind of one of those things that keeps on going through your mind and it's kind of disturbing."

The billboard, which can be found throughout Breensboro, shows a young woman screaming, with part of her face missing.

"Some people might want to go see that haunted house but not everybody wants to look at a bloody face while driving down the road," said Russell's mother Jennifer.

The Thomas family says they enjoy Halloween but not violent depictions of women.

"I don't want to see violence against women so for me that was something that stood out," she said. "Why is it just a female face and why does it look like someone has beaten her?"

Woods of Terror owner Eddie McLaurin understands people's concerns and received a few calls about the billboard but says he's in the business of Halloween.

"We went through 10 pictures and some of them were very aggressive and we didn't want to put them out to the public because kids and people who choose not to partake of my product," McLaurin said. "If you come here you are going to get scared. This is not for your kids under 13. We are PG-13 and I don't want little kids to come here and ruin their Halloween but when they are teenagers and adults we have a great entertainment for them."

Nearly 30,000 people come to the Woods of Terror each fall.

Some parents have even taken to Facebook groups expressing concern the billboards glamorize violence and human cruelty.