To be a black cat on Halloween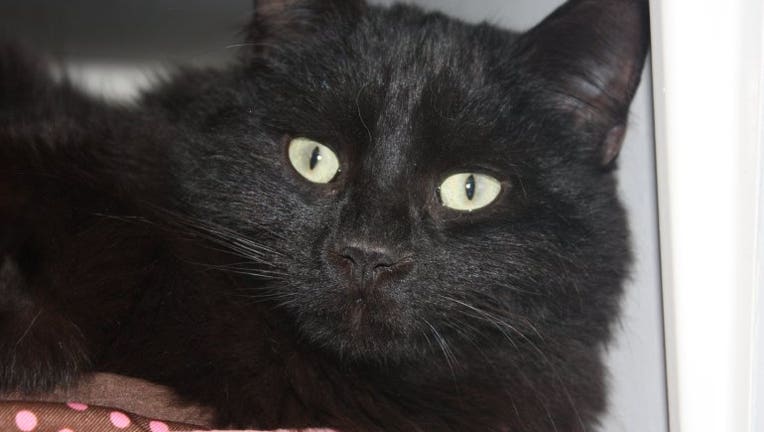 article


WASHINGTON -- It's Halloween, and for many of us, that conjures up a familiar image.

The moon rises above silhouetted trees, and the wind whips the last of their fall leaves to the ground. Somewhere in the distance, an owl hoots. And, to complete the spooky picture, a black cat dashes through the frame, pausing to arch its back and let out a loud meow before disappearing into the bushes.

This time of year especially, black cats can get a bad rap. Some people avoid them because of superstition, and there's a widespread belief that they're less adoptable, in part because they don't show up well in photographs. Still, plenty of people -- like those in the gallery above -- find them to be ideal companions.

Nobody is quite sure how the superstition of black cats bringing bad luck originated. In fact, in some parts of the world, such as the British Isles, black cats historically represented good luck. And just as we don't agree on our black cat superstitions, animal rescue workers are divided on whether the stereotype causes dark-furred kitties to face extra hurdles in finding forever homes.

The UK's Royal Society for the Prevention of Cruelty to Animals estimates that around 70% of cats in its care at any one time are black, or black and white.

Reasons range, they say, from their sleek coats, which can lack distinctive markings, to the challenge of photographing their velvety black fur, which can make it difficult for shelters to advertise available cats -- and discourage snap-happy potential owners. An article claiming that black cats get abandoned because they don't look good in photos even went viral over the summer.

"The RSPCA rehoming teams have heard all kinds of excuses about why they don't want a black cat; from 'It's too scary for my daughter who will only be able to see its eyes in the dark; it will frighten her' and 'we won't be able to see it in the garden as there are other black cats and we won't recognize it or we might trip over it!'" the organization wrote in a statement.

Stateside, the American Society for the Prevention of Cruelty to Animals believes widespread prejudice against black cats is a myth, saying that the large number of black cats in shelters is because there are simply more of them in the general feline population. Emily Weiss, the organization's vice president of shelter research and development, explores the numbers in the United States on the ASPCA blog, and concludes the following:

"Black cat euthanasia rate is a bit higher than the others at 30%, with gray cats being the next highest at 28%. White cats do not fare much better at 26% euthanasia rate."

Still, many shelter staffers and volunteers say that, in their experience, people seem to ask for colors other than black.

"There definitely is a preference for other colors in my opinion," said Samantha Shelton, president and CEO of Furkids, the largest no-kill animal shelter in Georgia. "We have adopted out more than 10,000 cats and time and time again, black cats are always overlooked."

Shelton and many other shelter owners try to encourage their adoption by sometimes reducing or eliminating adoption fees for black animals. "We find it has successfully helped bring attention to them and give people something to think about; they tend to give a black animal a second glance when they know the fee is waived or reduced," she said.

Things get even trickier (no pun intended) around Halloween. Some shelters won't adopt out black cats at all during October, fearing that the kitties could be used as Halloween props and then abandoned -- or, worse, that they make "an easy target for Halloween pranksters who commit violent acts against unsuspecting kitties," says PETA.

Whether black cats face hurdles in getting adopted, they sure do make their doting owners feel lucky. Click through the gallery above to meet a few of them. You might even pick up a few tips on how to photograph your best dark-furred friend.

Would you like to adopt a black cat of your own, or support those working to find them homes? Your local humane society or SPCA can put you in touch with shelters and pets that need homes. If you'd like more info or aren't sure where to start, try the Humane Society of the United States or ASPCA websites.