Tips help get 'Dog' chained in California; convicted felon who was wanted in King County
FUGITIVE CAPTURED August 10, 2016 --
The Lake County News says Justin Johnson was arrested in Clearlake, California on Wednesday, after Lake County deputies received information that Johnson's RV was parked outside a Walmart. Deputies told The Lake County News that Johnson was spotted in the doorway and tried running when ordered to step out of the vehicle. Detectives and deputies say they caught up to him quick, took him into custody and booked him into the Hill Road jail in Lakeport, California.

Johnson is WMW Capture #793

FUGITIVE WANTED IN KING COUNTY August 5, 2016 --
When detectives served a search warrant on Justin 'Dog' Johnson's RV in Carnation, they say they found meth, heroin, a used pipe, a revolver, a rifle and ammunition.

Deputies want you to take a good look at his RV, because they say Johnson is likely driving it right now with fake, or temporary plates. After they searched it and during questioning, Johnson told detectives it was his constitutional right to have guns and nobody told him he couldn't. Sorry, 'Dog,' because you have four felony convictions -- you are wrong. "One is drug related, another one for assault on a police officer and a third one is for a hit and run that resulted in a death," says King County Sgt. Cindi West." Currently he's wanted for another drug charge and possession of a weapon. This guy should not be in possession of firearms and he needs to be in jail."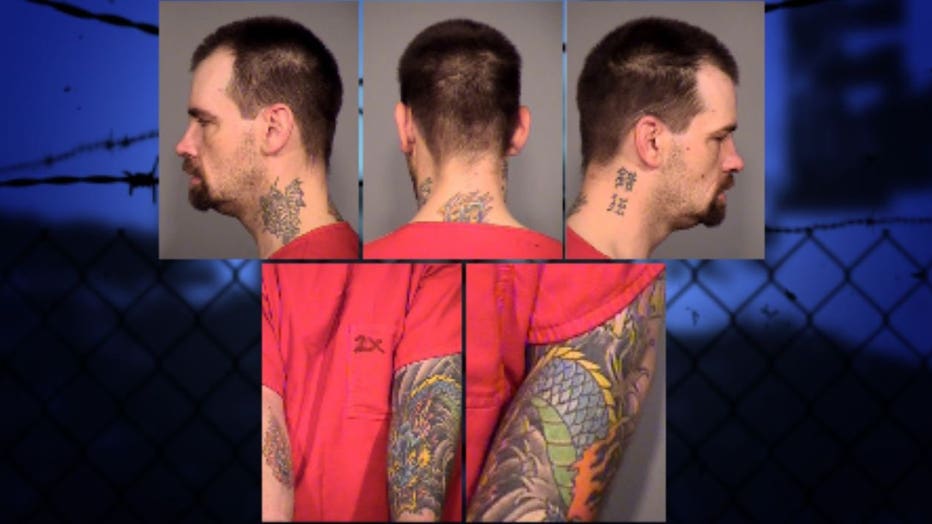 He's inked with really colorful dragon-looking tattoos on both forearms, another vivid tattoo on the back of his neck and ink on both sides of his neck.

He's 40 years old and has a $75,000 warrant for his arrest.

Again, detectives think he's driving and living in the white and grey RV with a lavender stripe on the front you see in the photos.

If you can tell King County deputies where to find him, call an anonymous tip into:
CRIME STOPPERS: 1-800-222-TIPS

You must call the Crime Stoppers hotline with your tip to be eligible to receive a cash reward for information leading to a fugitive's arrest.