Three separate shootings in Tacoma leave three dead
TACOMA, Wash. – It's been a violent two weekends in South Tacoma. Last Friday someone shot and killed two men in a driveway on 3600 East Portland Avenue. This weekend, someone shot and critically injured a man in the Safeway parking lot Saturday and this morning, three people were shot, killing one man and injuring two others after a record release party on South Tacoma Way.




It was hard for patrons and workers at the Golden West Lounge to ignore the police tape and investigators two doors down after an early morning shooting killed one and injured two.

"None of these business owners said they knew what was going on," said Kevin McCament, an attorney who represents Golden West Lounge.

Those familiar with the area say it isn't the first shooting on South Tacoma Way.

"I mean I got to tell you, I'm scared being here," said Jauslynn Tart, who works as a bartender at Golden West Lounge. "I'm scared to close every Saturday night."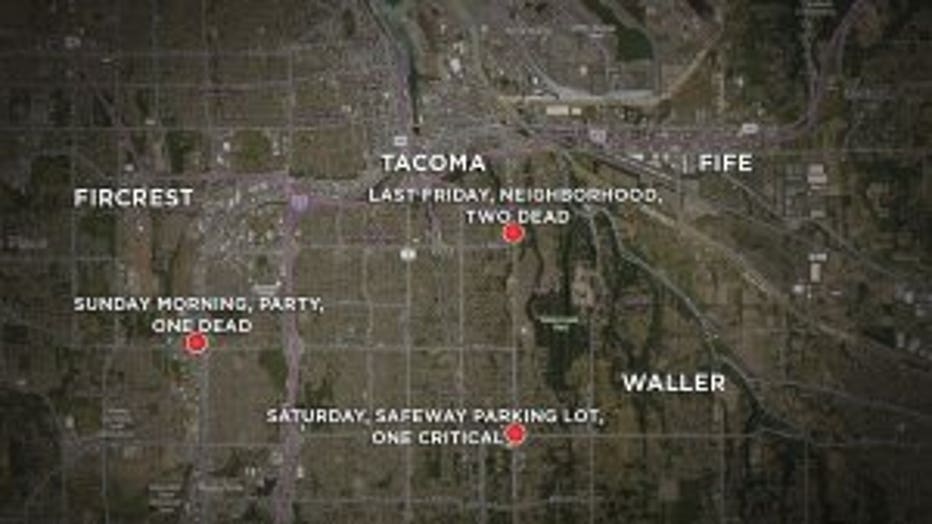 Sunday's deadly shooting wasn't even the first this weekend, Saturday morning, someone shot a man in his car multiple times in the Safeway parking lot on East Portland Avenue.

While law enforcement agencies say the shooting seems to have been targeted, shoppers at Safeway say it's not enough to ease their minds next time they go out.

"I don't know that I would want my teen daughters coming out here my themselves it's kind of sad, but I'm kind of not wanting them to be alone," said Karen Wejemark,

Just two miles down the road from this Safeway, two men—Terry Northcutt and Voravangso Phanmana were murdered while working to fix a motorcycle in a garage.

"There's a lot of unanswered details," said Karen Sullivan, Northcutt's sister. "Someone could have been driving by looking for trouble, we don't know yet."




While police aren't saying any of these cases are connected, the fear they're leaving here are one in the same.

"I love Tacoma, and it has a good heard but if it continues to ramp up, but I may consider traveling in for work for the business instead of living right here in town," said Wejemark.

At this point, all of these shootings are unsolved with gunmen still out there.