Thousands march against hate in Capitol Hill
SEATTLE – Thousands of women marched from Volunteer Park to Cal Anderson Park in a show of solidarity against hate Saturday afternoon. Organizers said the march was to "show the world that misogyny, misogynoir, racism, xenophobia, transmisogyny, transphobia, and hate of any kind is not welcome in this city."

A Facebook invite that ended up reaching more than 22,000 people rallied women, saying "together we can show the world that women will not be bullied by anyone—not even the next president." King County sheriff's deputies estimated there were between 5,000-6,000 people that showed up to Volunteer Park for the march.




"I want my son to know he can grow up in this world and no that love is still there," said April Musick.

She brought her family to the march. She said it's an act of solidarity that inequality and hatred are not ok.

"It's about thousands of women and the people that came to support them as well," said Musick. "My husband is here, my son is here, and we're all just trying to fight for love. And that's why I am here."

"I am a mother, I have a black son, and I am an immigrant," said Mali Piottin.

"I feel like this is my fight," the French woman said she as she held a sign. "I have been fighting for half a century against sexism, patriarchism, I have been fighting for reproductive rights."

"Frankly, I can't believe that I am still fighting for that stuff in 2016," she said.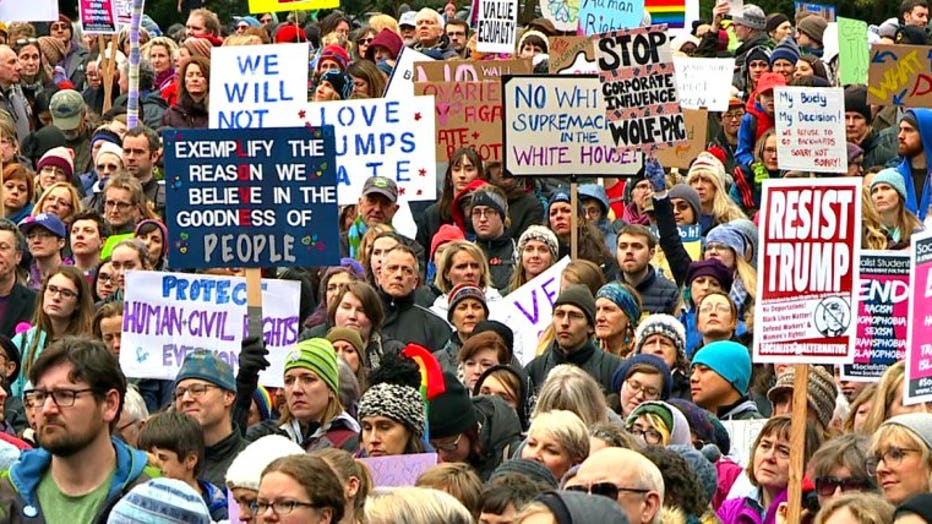 Piottin came to the march with a friend, Barb Rowan. She said it's time for women to rise up together and demand the equality owed to them.

"I want freedom, I want my rights protected, I want what we have and more," said Rowan.

"We have to keep just standing up for ourselves because no one else is going to do it," she said.

Rowan said it's important for the lawmakers elected last month to see the unrest if the country is going to move forward. "I thought I would have more in my lifetime, I thought that women would be equal. We're not, so we have to keep up the fight."

It's a fight they said that can be won with love, a fight against hate.

"We need to make sure that our lawmakers know what we want," said Rowan. "It's the only way, and this is one way."