Thousands gather for 'Iron Lady' Margaret Thatcher's funeral
 LONDON -- With stately solemnity and military honors, Margaret Thatcher's body was borne through the streets of the British capital Wednesday morning to a funeral service where hundreds of world leaders, colleagues and friends paid their last respects to this country's first and only female prime minister.


Inside imposing St. Paul's Cathedral, more than 2,000 mourners gathered for a simple religious service in memory of the woman whose transformative but controversial premiership, from 1979 to 1990, was the longest Britain had seen since the early 19th century. Among those present in the church was Queen Elizabeth II, attending a funeral for a prime minister for the first time since Winston Churchill's rites in 1965.

Thatcher's coffin was draped in the Union Jack and graced with a spray of white roses. On it rested a card bearing the simple message: "Beloved mother, always in our hearts."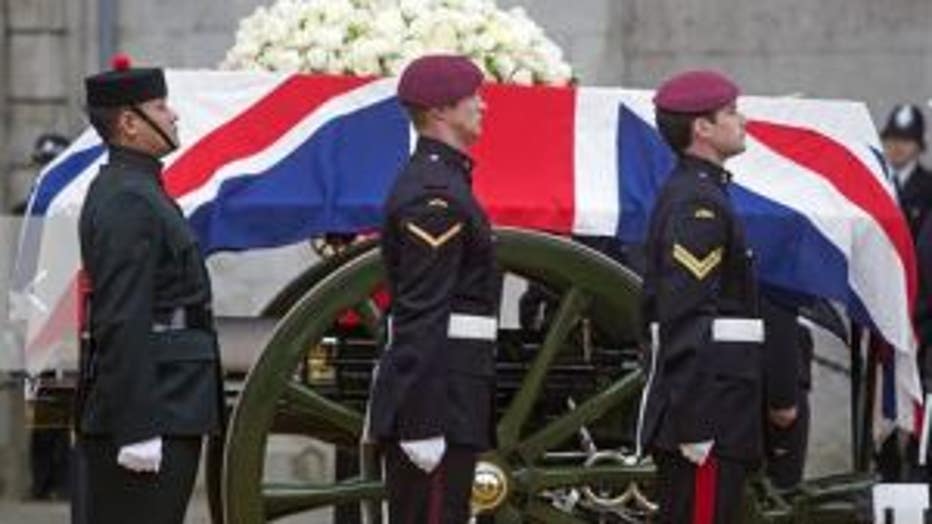 "There is an important place for debating policies and legacy, for assessing the impact of political decisions on the everyday lives of individuals and communities. ... Here and today is neither the time nor the place," Richard Chartres, the Church of England's bishop of London, said in a short homily.

"This is a place for ordinary human compassion of the kind that is reconciling. It is also the place for the simple truths which transcend political debate. And above all, it is the place for hope."

Outside, under gray skies, spectators several rows deep crowded the sidewalks of the streets leading from the houses of Parliament to the cathedral, along which Thatcher's coffin was carried in a hearse and then atop a horse-drawn gun carriage. Some people burst into applause. Others threw flowers.

For the complete Los Angeles Times story, go here.