Thieves target busy parents during first week of school
KING COUNTY, Wash. – Back to school and back to work for criminals. A rash of smash and grabs near elementary schools target busy moms in King County.

Surveillance video at Stillwater Elementary in Carnation caught a late model silver SUV parking and re-parking next to cars on the first day of school. School officials said the driver parked a third and final time, got out of their car and smashed the windows of the cars next to the SUV, grabbing purses out of the passenger seats.

"I knew it would take hardly four to five minutes."




It's a similar story to that of Sthira Mukherjee. The Redmond mom said she left her purse inside her locked car outside Wilder Elementary on Wednesday. She said it was a quick trip, in what she thought was a safe place.

"I never imagined something happen there. It never came in my mind," she said.

Mukherjee said it was too busy to park inside the school's lot that morning, parents like her resorted to parking outside the school and walking their children in.

"When I came near the car, I saw the glass passenger side was broken," she said. It was smashed, glass she said covered the seats and the street.

She's one of three victims this week in King County. "You will see some of the fastest smash and grabs you have ever seen," said Kristin Banfield, with Arlington Police. "Even though you said you were going to be in the daycare, in the school, just to pick up your kid for 30 seconds. Take it with you," said Banfield about purses.

It doesn't matter where you park she said, criminals are looking out for women and targeting them when they least expect it.

"This is very startling, very scary in place that you would be very comfortable shopping," said Banfield about a strong arm robbery on Tuesday night.

It happened outside the Safeway in Arlington. She said a man came screaming out of the door, grabbed the purse of a middle-aged woman and took off. He was captured before the robbery on surveillance cameras at Safeway and Walmart.

"He is looking around a lot, that's why we have him on so much surveillance," said Banfield, most likely looking for his next victim, she said.

Police are asking women to relook at how they hold their bags.

"You're going to want to keep your purse as close as you can to your body," explained Banfield. "I am going to want to sling it over my shoulder, keep one hand on it and make sure that I am holding onto it tightly."

Don't drop it to your side, she said and don't swing it. Also, don't rummage through it in the open. "They can come by and just grab it off my arm," she demonstrated.

If you can, wear a shoulder strap across your body and keep the opening of your purse towards your body.

"Turn it to the inside," said Banfield. "It makes it 10 times more difficult for a thief to get their hand into a bag, if the opening is closer to the body."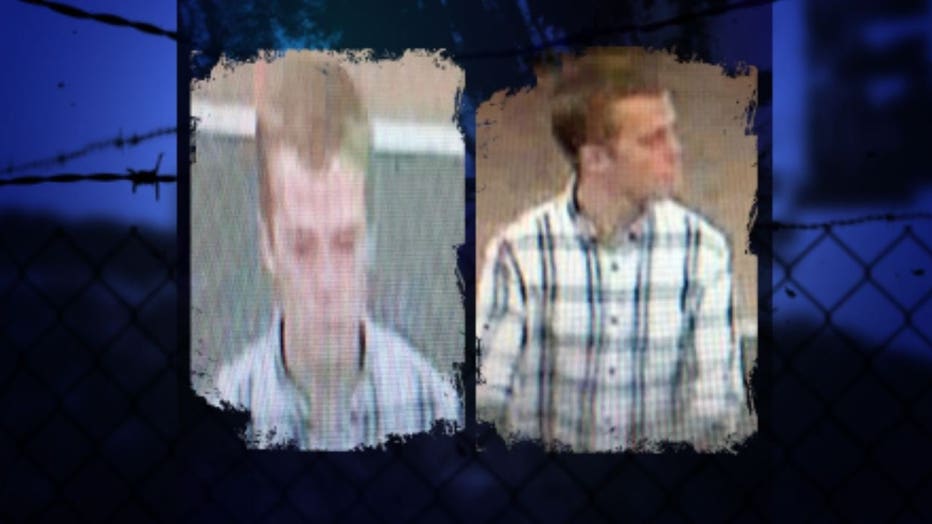 The subject in the strong arm robbery is described as either in his late teens or early 20's, red hair, wearing a 2-toned white plaid shirt that has a dark shade on the bottom of the shirt and sleeves.  He was also wearing blue jeans and grey shoes and possibly has a neck tattoo.

He was dropped off at Walmart on Tuesday evening by an unknown make/model 4 door passenger vehicle that is dark.

If you know his name, call an anonymous tip into:
CRIME STOPPERS: 1-800-222-TIPS
You must call the Crime Stoppers hotline with your tip to be eligible to receive a cash reward for information leading to a fugitive's arrest.