The Power of 12: How the math will win out
SEATTLE -- I have a good feeling about the Hawks' chances in Sunday's Super Bowl. I've been doing a lot of reading about the two teams, breaking down personnel and statistics. Aside from the fact that I feel the Seahawks match up well against the Broncos, I get the feeling the Hawks are going to win just because it's Seattle's time.

A lot of analysts are crunching the numbers, as they try to figure out who has the upper hand in Sunday's Super Bowl matchup.

606. That's how many points the Denver Broncos have scored this season, an NFL record.

55. That's how many touchdown passes Peyton Manning has thrown this season. Another NFL record.

172. That's the average number of passing yards per game the Seahawks' defense allowed this season, by far the best in the league.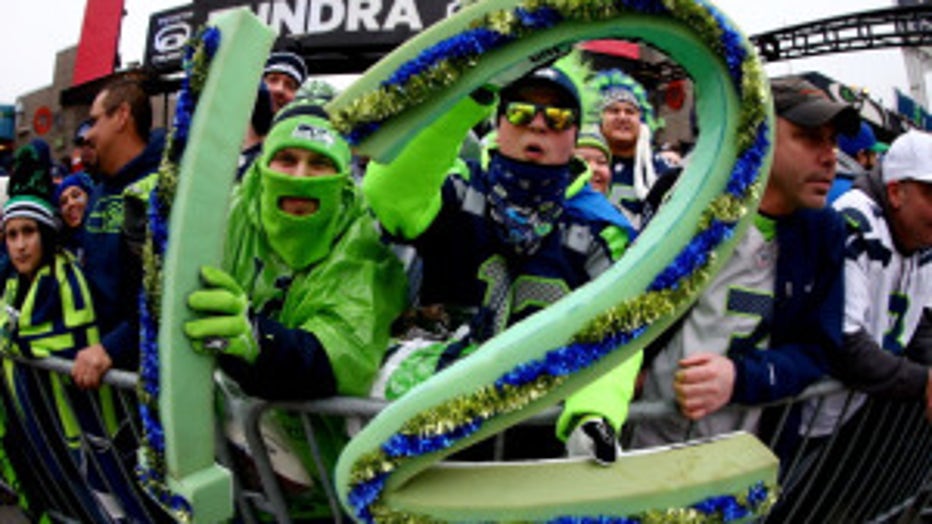 1. That's where the Seahawks' defense ranks in 2013, allowing only 22 touchdowns, another league best

But the number that matters most for the Seahawks heading into Super Bowl 48? 12. As in the 12th Man.

The 12s won't have a direct impact on the game by bringing eardrum-splitting noise to MetLfe Stadium like they do at CenturyLink Field, but the 12th Man, and interestingly, the number 12 itself, is popping up a lot in regards to this game.  It's part of the reason why I have a good feeling about this.

I'm a tiny bit superstitious. For example, I would not utter the words "Super Bowl" in relation to the big game, until they had actually punched their ticket.

Anybody who was in attendance at that NFC Championship Game could feel the electricity coursing through that stadium. If ever a city willed a team to victory through the power of intensely focused positive energy, it was this city, and that team, on that day. There is something going on. It's unmistakable.

People tell me that this season feels much different than the Hawks' Super Bowl appearance in 2005. I agree.  I felt nervous and unsure about our team's chances in that game, but this time around, I feel much more sure of our team. I think part of the reason is that this team plays with such confidence, that it inspires a fanbase that has been beaten down and forced to accept mediocrity for so long it barely remembers what a championship swagger feels like. It feels good, doesn't it?

It's a two-way relationship. After every game, home and away, the players and coaches talk about how the 12th Man motivates them and energizes them. Have you ever heard an NFL team praise their fans as much as the Seahawks do? You don't. You know why? Because fans like us don't exist anywhere else. That is a fact. You can look it up in Guinness Book of World Records.

I get the feeling the Hawks want to win this thing for the fans of Seattle just as much as we want to see them do it. That's a powerful force.

Not to get too weird on you, but there a few signs that have been popping up lately that are interesting.

A number of fans have pointed out to me that this is Super Bowl 48. 4+8=12. I like that.

We are getting ready to host a Super Bowl Blue Friday tailgate party at CenturyLink Field on Friday on Q13 FOX. We have thrown these parties for the fans every Friday morning since the beginning of the season. Over a thousand fans have shown up for each of the past two events. This Friday, we are going to have fans sign 12th man flags that I will hang on the railing at MetLife Stadium, so the players, and hopefully the TV cameras, will spot them. My amazing Blue Friday producer Laura Rieder told me she had bought three flags for fans to sign. I thought for a moment, and said, "What is 4x12?" (Math is not my strong suit.) Laura says, "48." As in Super Bowl 48. So, we will have FOUR 12th Man flags for fans to sign on Friday, which I will take with me to the Super Bowl.

Last (Blue) Friday, my daughter wanted to go to the thrift shop with her friends. As they shopped, I found a surprisingly cool leather jacket that fit me perfectly. I went to the register to pay. It was half off. How much was it? $12. At the Thrift Shop. On Blue Friday.

I tweeted Macklemore and Wanz (who sings the hook on Macklemore's hit "Thrift Shop"), about my good fortune. As it turned out, they were already in LA for the Grammys, where they were nominated for 7 awards. I told Wanz that this is a good omen for them and the Seahawks. Macklemore and company walked out with four Grammys. It's already a fantastic week for Seattle. And I have a feeling it's going to get even better.

Yesterday morning, I saw that Queen Latifah was going to sing "America the Beautiful" at the Super Bowl. Latifah appeared onstage with Macklemore at the Grammys, and performed a wedding ceremony for 33 couples during a performance of "Same Love" (33 is my lucky number by the way, not that that means anything). I explained this new (albeit far-fetched) Seattle connection for the Super Bowl to my co-anchor Kaci, who laughed and crossed her eyes at me.

Well, it all makes sense to me. Like I say, I have a good feeling about this.