The Power of 12 couldn't be denied
SEATTLE -- I started talking about how the number 12 was popping up all over the place in the week leading up to the Super Bowl. It was Super Bowl 48 of course, and a lot of fans pointed out to me that 4+8=12. I thought that was pretty cool.

So, here I go. A lot of you want to throw eggs at me (a dozen of them) about all this "12" stuff , but I'm going to run through it all one last time.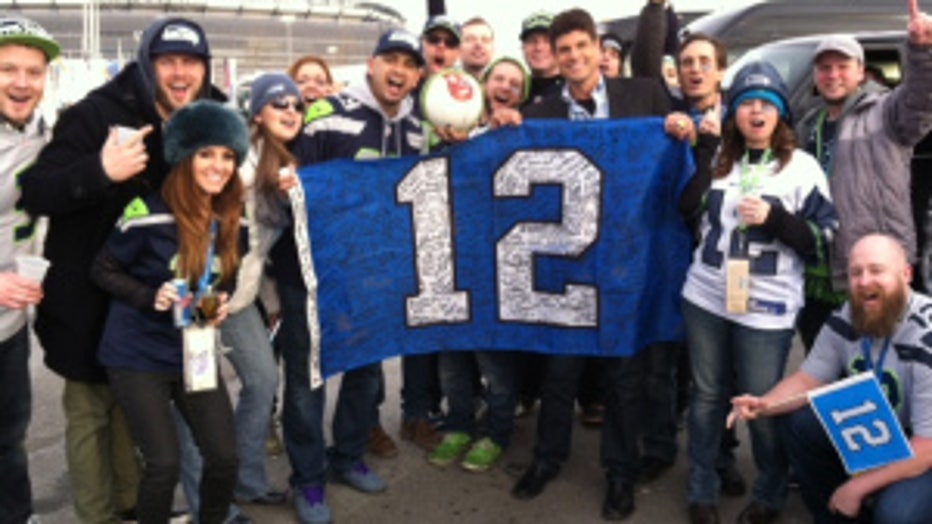 On the (Blue) Friday, before Super Bowl week, my daughter wanted to go to the thrift shop with her friends. As they shopped, I found a surprisingly cool leather jacket that fit me perfectly. I went to the register to pay. It was half off. How much was it? $12. At the Thrift Shop. On Blue Friday.

I tweeted Macklemore and Wanz (who sings the hook on Macklemore's hit "Thrift Shop"), about my good fortune. As it turned out, they were already in LA for the Grammys, where they were nominated for 7 awards. They are huge Seahawks fans (as most of you know), and I told Wanz that this is a good omen for them and the Hawks. Macklemore and company walked out with four Grammys. Between three Seattle artists: Macklemore, Ryan Lewis and Wanz. (4 x 3=12)

All season long, I hosted a Blue Friday tailgate party on Q13 FOX. It was an awesome experience to share the excitement of this incredible season with fellow 12's every Friday morning. On the final Blue Friday of the season before the Super Bowl, we had fans sign 12th Man flags that I brought with me to the Super Bowl in New Jersey. My amazing Blue Friday producer Laura Rieder told me she had bought three flags for fans to sign. I thought for a moment, and said, "What is 4×12?" (Math is not my strong suit.) Laura says, "48." As in Super Bowl 48. So, I brought FOUR 12th Man flags with me to the Super Bowl. I gave one to Governor Jay Inslee to take inside, and gave the other three to groups of boisterous 12s heading inside MetLife Stadium, who waved and displayed them proudly during the game. Perhaps you saw them during the Super Bowl telecast. I hope you did. Two of them were visible in the south end zone.

I received an email from a viewer, who informed me that I gave one of the flags to the grandson of Joseph Wanner, who is credited with coming up with the name "Seahawks' for Seattle's football franchise.

By the way, the Seahawks retired the number 12 in December of 1984 in honor of the fans. It was the first number retired by the team. The retirement ceremony happened before a game in the Kingdome in the 12th month of '84. (8 +4 =12).

Saturday, before the Super Bowl, legendary Seahawks Offensive Lineman Walter Jones was voted into the Football Hall of Fame. How many seasons did Walter hold down the Left Tackle position for the Hawks? 12.

The Seahawks victory in Super Bowl 48 was the 12th playoff win in franchise history, and Peyton Manning's 12th career playoff loss.

It gets weirder. A lot weirder. Please bear with me here.

A lot has been made about how the number 12 kept popping up during the game. There were 12th Man flags all over of course. The Seahawks scored a safety, thanks in part to the noise created by the 12th man at MetLife Stadium, 12 seconds into the game.

Percy Harvin scored on a kickoff return 12 seconds into the 3rd quarter. I looked up at the clock after that touchdown. It read 14:48. During Super Bowl 48. (:60- ;48 = :12.)

Marshawn Lynch scored exactly 12 minutes into the second quarter.  Seriously. The clock read 12:00.

The Seahawks scored 43 points in the Super Bowl. (4x3=12)

Russell Wilson's final passing yardage in Super Bowl 48? 206. Seattle's area code. (2 x 6 = 12)

Yesterday was perhaps the most magical moment in Seattle history. The victory parade and celebration on 2/5/14 (or 2+5+1+4 =12) for the Seahawks was attended by an estimated 700,000 to 1 million people (I'll go ahead and guess it was 1.2 million). It was my honor to anchor our coverage on Q13 FOX all day long. How many hours was I on the air? Yep. 12.

I got very emotional during the day, watching the sea of 12s embrace the team as they made their way through the streets of Seattle, culminating with a victory celebration inside a packed CenturyLink Field, a stadium which is now…wait for it… 12 years old.

It was so uplifting to watch Marshawn Lynch at the front of the parade, sitting on the hood of one of Seattle's famous Ducks, beating a Native American drum, getting pelted with Skittles, and throwing them right back at the crowd. Richard Sherman and the Legion of Boom couldn't wipe the smiles off their faces. A number of fans pointed out to me that "Legion of Boom" is 12 letters. The players flash a hand signal as a sign of unity: an extended thumb and forefinger in the shape of the  letter "L", which happens to be…yes…the 12th letter of the alphabet.

In my 12th hour of our live TV coverage, I was telling my co-anchors, David Rose and Marni Hughes about my memories of the 1979 Sonics parade. My dad took me to that celebration, and I got wistful thinking about how much he would have loved to see this. David asked me how old I was when the Sonics won the World Championship. I had to think for a moment. And then I laughed. And then I started to cry.

I was 12.