The number of missing drops to 30 as heavy rain hampers search for victims
OSO -- On Saturday the number of missing, or those unaccounted for, dramatically dropped from 90 to 30.

Snohomish County Emergency Management says the number decreased after the missing were either located, identified as victims or crossed off as duplicate reports.

Now a week into the search, the process to find victims buried under the mud and debris is worse than finding a needle in a haystack. The devastation is so overwhelming crews say it's hard to tell what they are looking at half the time.

"Family members come out here every day and dig," Battalion Chief Steve Mason said.

They have been in the heart of the destruction since day one, despite the agonizing search family members refuse to go home until their loved ones are found.

"We are always hopeful to find something to find someone, there are always miracles out there," Mason said.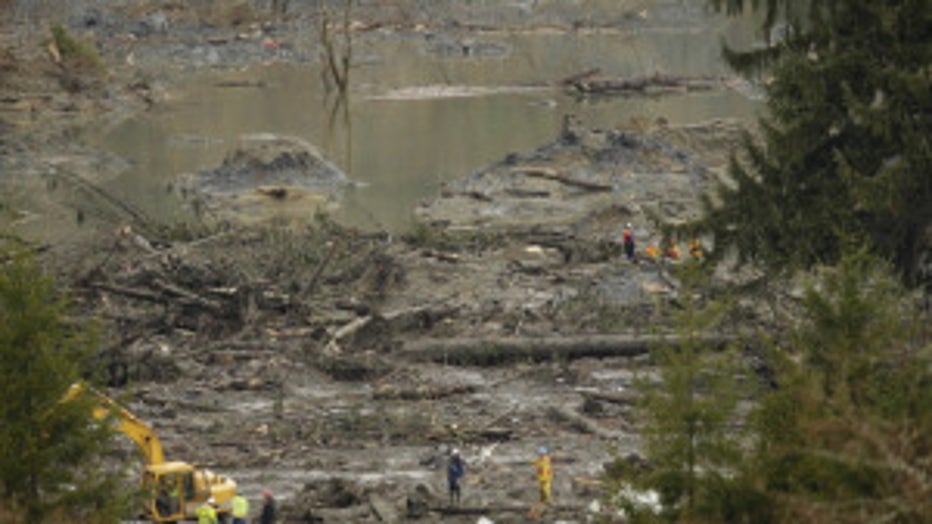 The search for mudslide survivors enters 7th day.


Immediately after the landslide crews covered as much space as possible trying to quickly locate survivors now a week into the search they are doing what's called forensic digging.

"We have to go piece by piece through the debris piles, everything is grey so everything blends," Mason said.

The constant rain is also delaying the painstakingly slow process even more.

"They can dig a hole and then it comes back with mud and water," Mason said.

On Saturday crews found one additional body and the number of dead is expected to increase even more once the Medical Examiner's Office identifies more bodies.

"The slide hit with such force that often times rescuers are not finding full intact victims," Jason Biermann of Snohomish County Emergency Management said.

But the traumatic process must go on, crews are working around the collecting anything that stands out, even personal items. Everything from wallets, albums to hundreds of photographs are being plucked out of the muck and carried out in black bags. On Saturday, crews packed a tent and two ATV's with black bags full of items. They will eventually be reunited with family members.