The Navy blows up decades-old 'military mine' found in waters off Brownsville Marina


PORT OF BROWNSVILLE, Wash. -- The Navy towed away and blew up a "dated military mine" that was found in waters east of the Brownsville Marina earlier Tuesday afternoon.

"Navy Explosive Ordnance personnel safely disposed of the device that appeared to be a dated military mine in waters between Keyport and Bainbridge Island," the Navy said, adding that the detonation occurred at  8:04 p.m.

"The detonation did not create a secondary explosion, which indicated the device was inert," the Navy said. "Its origin remains undetermined. The Navy will continue to investigate."

The U.S. Coast Guard it had set up a 1,500-yard safety zone around the device before the Navy inspected the device and towed it out to a safe area for detonation. .

"Upon initial inspection, the unidentified moored mine was found to have decades of marine growth," the Navy said.

Explosives disposal experts from Naval Base Bangor were  on scene and in charge of the ordnance, the Coast Guard said.

The Coast Guard said the ordnance was originally located Tuesday afternoon by a Washington State Department of Natural Resources crew.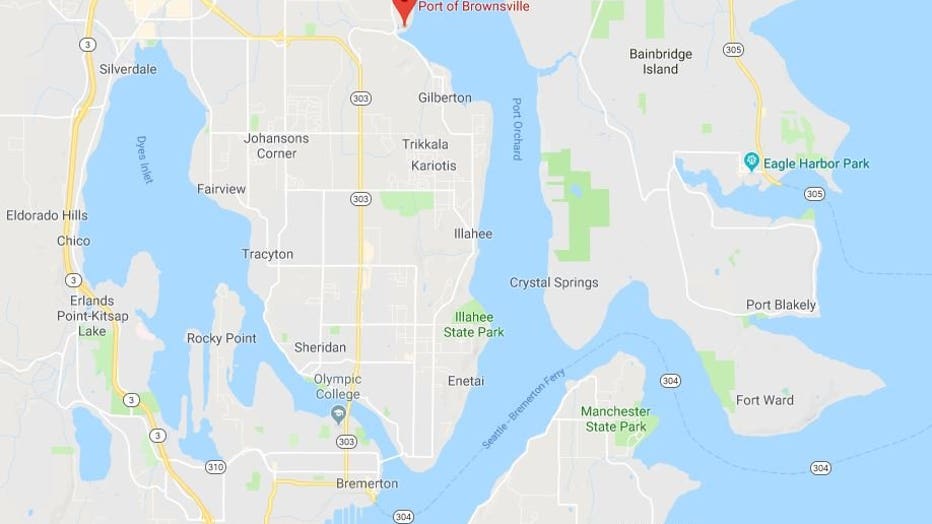 Photos submitted to the Kitsap Sun by readers showed a round, rusted object with rods protruding from it. One photo showed divers inspecting the device.

Brownsville is located a few miles south of Naval Base Kitsap — Keyport's torpedo testing range. The Navy was not immediately able to respond to a request for information.