The fall stormy season moves in this week
SEATTLE -- Say goodbye to sunny and nice days, and hello to rain and wind gusts. The fall rainy pattern that the Pacific Northwest is known for is returning this week.

Q13 Chief Meteorologist Walter Kelley says, "most of the rain and wind will be north of Seattle and over the mountains."

But, "there will be periods of rain and wind for everyone this week as we get the jet stream pointed right at us."


Monday

Monday starts out dry and the day will be pleasant. (So enjoy it)

Tuesday

Early Tuesday will be wet and gusty during the morning commute.

"Places like Bellingham will have wind gusts over 45mph and this could cause some weak trees or branches to fall," Kelley warns.

The main Metro around Seattle will have gusts closer to 35mph.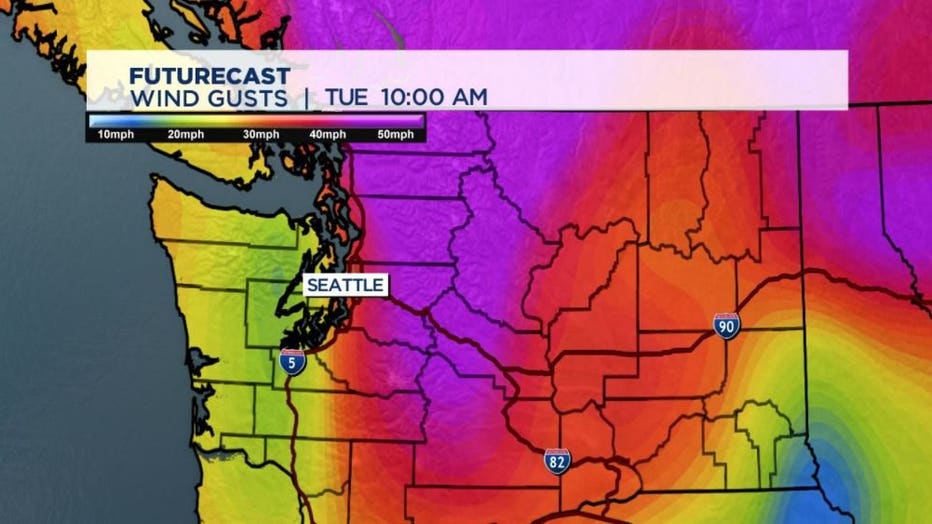 Tuesday afternoon should be gusty but the evening commute should be dry, Kelley says.

Seattle and Tacoma will be wet but not as wet as foothills due to rain shadow off of the Olympics.

Wednesday

Wednesday looks wet and windy for everyone.

The area rivers over the North Cascades and Olympics will run high and fast.

Thursday

Thursday has passing showers.

Friday

Friday could have a few thunderstorms.

Saturday

Saturday looks wet and windy for everyone, again.

Kelley says, "it looks quite gusty for all, but the strongest winds will be at the beach and up north near Bellingham."

Sunday

Sunday looks gusty but not too wet.

This is the start of the Fall stormy season. Please clear drains and drive with care during those heavy rainy periods.

Snow levels should stay above all of the passes this week.