The biggest longshot of all: 42-year-old Japanese 'Dinosaur' dreams of NBA


SEATTLE -- Osamu Abe is 42 years old – and wants the NBA to take notice.

Once a member of the Japanese National Team, Abe was called "The Dinosaur" overseas. It's now an appropriate name for a man fighting Father Time.

Only five men have played in the NBA past the age of 41 – yet Abe is convinced he'll be the sixth – regardless of the odds.

"Only I know myself," Abe said. "Only I know my inner voice."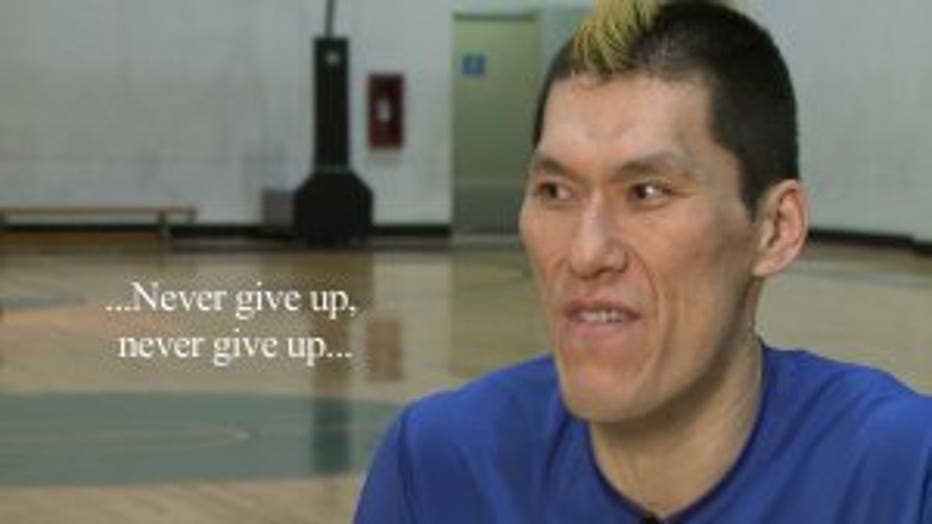 It's a voice that's kept him going, despite three knee surgeries, he's had the drive to overcome brain surgery to remove a benign tumor in 2007, not to mention the persistence to get an NBA tryout before his tourist visa runs out in July.

Jason Baskett, who's coached NBA players before, is guiding Osamu on the impossible quest, training the 6-foot, 7-inch forward with the skills he'll need in case that chance might come.

"Is this a Hail Mary? Yes," Baskett said. "To just get a tryout I think would be his championship. I think that would be his ring."

Abe has no agent. He's got little hope. Six years after being turned away after tryouts with three NBA D-League teams (Tulsa, Albuquerque, Anaheim), he refuses the accept the notion that he's too old – that it can't be done.

"I don't think this is the time to give up. This is the time to quit," Abe said.

So he continues to dream, switching days between honing his game at Emerald City Basketball in Seattle and intense conditioning with a specialized trainer, Timothy Ray Manson, at Maximum Sports Conditioning in Bellevue.

"We can't turn the clock back, but we can teach the athlete to be more efficient and he's gained a lot of strength," Manson said. "He's gained a lot of balance, body awareness. His mobility has drastically improved."

In fact, Abe says he's in better shape than he ever has been – even when he was 25 and played in an exhibition game in Japan against Michael Jordan, Charles Barkley and other NBA players. Seventeen years later, the elusive dream is still a phone call away.

"He has such great energy," Baskett said. "He's such a good guy."

A good guy with a massive heart – and an even bigger smile. And an optimism that might never go away.

"I totally understand what they told me, but I cannot stop," Abe said.