The 100+ items you need in your emergency preparedness kit


SEATTLE -- Are you really prepared for a disaster? The King County Emergency Management Agency recommends having two weeks worth of food and water. For a couple, that's 28 gallons of water, 28 breakfasts, 28 lunches, and 28 dinners. Also, don't forget supplies like an ax, an extra pair of glasses and proper shoes.

Are you overwelmed? We get it. But area emergency management agencies have made it easy to prepare with custom checklists. Find those checklists, here.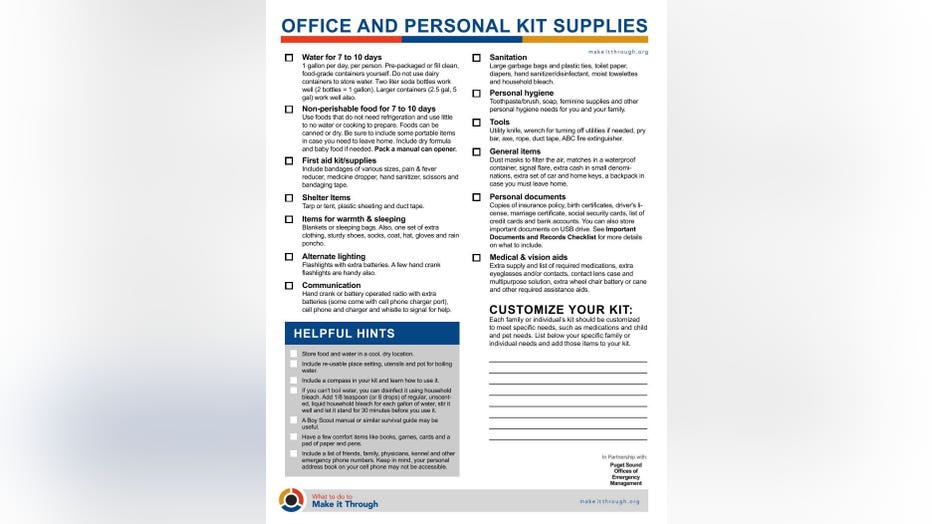 FEMA, as well as the Emergency Management Division of Washington, say two weeks of supplies are needed to prepare for an emergency, in the past that timeframe was 72 hours.

"The more prepared people are the better off they will be," said Lucianne Phillips, an External Affairs Specialist at FEMA.

Food 

FEMA recommends storing two weeks of food for every family member. The food should be non-perishable, and easily storable.

A website called Sally Strackbein's Emergency Kitchen breaks down exactly how much storable food is needed for two people for two weeks. The list is staggering:

Water 
FEMA recommends at least one half-gallon of drinking water each day per person. People in hot environments, children, nursing mothers and ill people need even more. Interestingly, FEMA never recommends rationing water if you can help it.

This is just a start. FEMA also recommends one gallon per person of water each day for hygiene. Things like water purifiers and bleach should also be kept around to help clean possibly dirty water.

Between drinking water and hygiene, a family of four needs 84 GALLONS of clean water for two weeks. Seem like a lot? Keep in mind the average American uses 100 gallons of water each day.

If you can't stockpile that much water, at least have some laying around.

"Do the best you can," Phillips said.

Hidden water sources in homes, such as hot-water tanks, pipes and ice cubes are a good source of excess clean water. Never drink from toilet bowls or tanks. Also know ways to treat water, such as boiling, chlorination and distillation.


Supplies

Along with food and water, you need a disaster supply kit in case of emergency. FEMA recommends: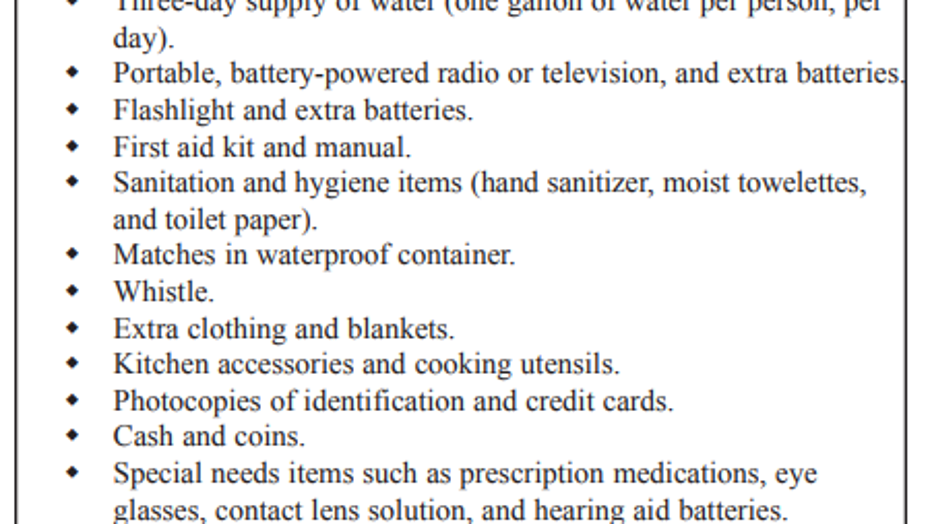 Tips to get by

Phillips said looking at two weeks of food and water for each person can be daunting. She offered some tips to help. First, don't try to get everything at once. Stockpile overtime in order to help your budget.

"Get a box of water now, a few cans of food," Phillips said.

Second, get together with your neighbors. With cell phones and automatic garage door openers, it's easy to let your neighbors slip as strangers these days. But the people you live closest to are the most likely to help and need help in an emergency. Get a plan together.

"Work with neighbors and pool resources," Phillips said.

Phillips suggests going to "Map Your Neighborhood" for Washington state.  The website helps neighbors prepare for disaster situations and reduce the severity of injuries and trauma that can occur. Working together as a unit can help save lives. Have a plan.

"It's easier to get your neighbors and have them help," Phillips said.

It's important to remember to have an emergency kit for each major location in your life: your home, your work, your car. You don't necessarily need two weeks at each location, but at least have some stores of supplies.

"In our mobile society, we can be any place when emergency strikes," Phillips said.

Finally, Phillips suggests families get together backpack emergency kits. Something you can grab and go in a hurry.

For more information on disaster preparedness, visit FEMA's ready.gov website.