Tens of thousands of Washington protesters expected at second Women's March on Saturday
SEATTLE – Tens of thousands of protesters are expected to take to the streets across Western Washington for the second Women's March on Saturday.

Marches are planned in Seattle, Olympia, Kenmore, Port Townsend, Aberdeen and other locations in conjunction with hundreds more across the U.S. The march falls on the first anniversary of President Donald Trump's inauguration.

The largest in Washington is expected to be in Seattle, where SDOT estimates at least 40,000 people will participate. One Facebook page for the march showed 19,000 people saying they were going, and another 41,000 who said they were interested. Last year, an estimated 175,000 people marched in Seattle.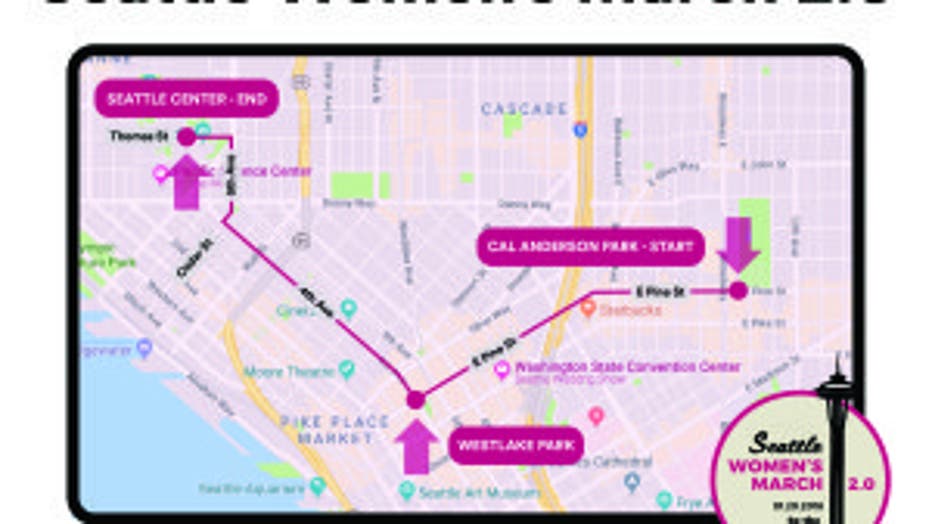 SDOT says it anticipates "significant traffic impacts, particularly in Capitol Hill and throughout downtown Seattle.

The march will begin at Cal Anderson Park at 11:45 a.m. and ends at the Seattle Center. Officials said they encourage protesters to take light rail to the march.

"We are marching this weekend to let our government and community know that attacks on our reproductive rights and freedom are unacceptable," Liliana Rasmussen, the president of Huskies for NARAL Pro-Choice Washington, said in a statement.




At least one counter-protest is planned. The Portland-based group "Patriot Prayer" says on its Facebook page that "the goal is to get people with a different point of view to be with the woman at the march."

The page says "you will be treated poorly, in fact you will be treated with intense hatred but that is ok. Patriot Prayer's philosophy is to bring a different point of view in these big cities unafraid and unapologetic."