Tears flow on Baby Doll Road: 'We think we're invincible and we're not'


PORT ORCHARD -- Less than three months after a street-racing crash killed two teenage girls, the emotional wounds are still painfully fresh.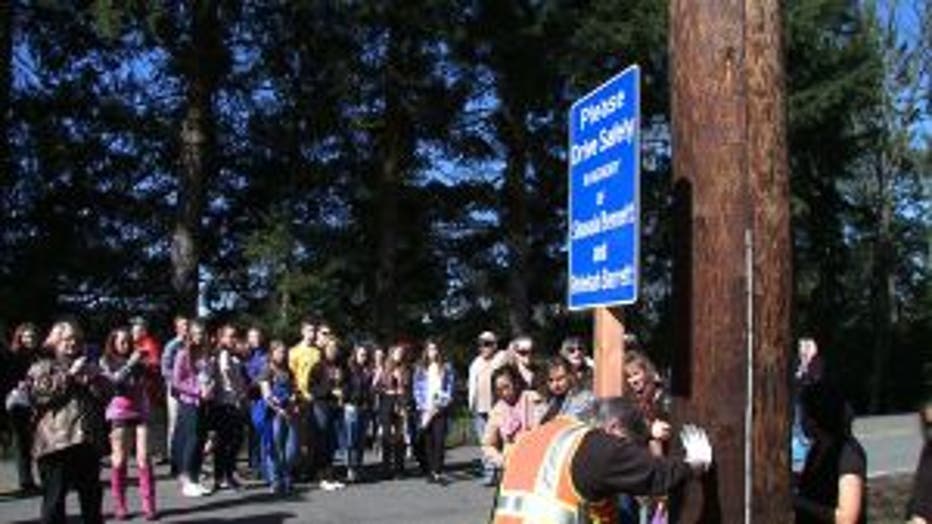 Baby Doll Road in Port Orchard now bears the names of the young girls killed in the accident in hopes that others will be more careful behind the wheel.

The tears and sorrow continue to flow on Wednesday after the loss of two young women who had so much promise.

"Father, I just pray God that you keep your hand on both these families," said Minister Clarnce Ellsworth, a family friend of Shanaia Bennett.

Eighteen-year-old Rebekah Barrett and her friend, 17-year-old Shanaia Bennett, died when their car veered off the road and slammed into a tree in December.

Nearly 50 family and friends gathered on Baby Doll Road on Wednesday for a ceremony that no parent wants to go through.

"They were only 17 and 18 and their lives were totally changed," said Rhonda Barrett, Rebekah's mother.

Police say Rebekah's boyfriend, 20-year-old Robert Rundquist, is responsible for the crash.

Investigators say the two girls were racing against Rundquist in a game of leapfrog, reaching speeds close to 60 miles per hour on the narrow residential street. But when Rebekah tried to avoid crashing into another car, she lost control and wrecked -- killing herself and her friend.

"You're not invincible," said Rhonda.  "In this world we think we're invincible and we're not. My daughter's not here anymore."

On Wednesday, Kitsap County installed two signs along the street reminding other drivers that speed and reckless driving can kill.

"If one person's life is saved from racing or one person's life is saved for sobriety, this is going to be worth it," said Rhonda.

While this tight-knit community mourns the girls' deaths, Shanaia's mother hopes that prosecutors will reconsider their decision to charge Rundquist with 2 counts of vehicular homicide.

"When he gets out we want him to share this story," said Theresa Bennett. "We want that to impact others. These signs will impact but a voice and face, and someone whose life has been changed for the rest of his life, will change many, many more lives."

Rundquist is out of jail on $100,000 bail, his trail is scheduled for mid May. He could be facing life in prison if he's convicted.