Tea Party ralliers push through barriers, blame Obama in protest
WASHINGTON -- Angered by the closure of national landmarks due to the partial government shutdown, a crowd of conservatives removed barricades Sunday at the World War II Memorial and the Lincoln Memorial as they rallied against President Barack Obama and Democrats for their role in the ongoing stalemate.

High-profile speakers with close ties to the tea party appeared at the event, including former Alaska Gov. Sarah Palin and Sen. Ted Cruz of Texas.

The rally, billed as the "Million Vet March on the Memorials," drew far fewer than a million people and evolved into a protest that resembled familiar tea party events from 2009, with yellow "Don't Tread On Me" flags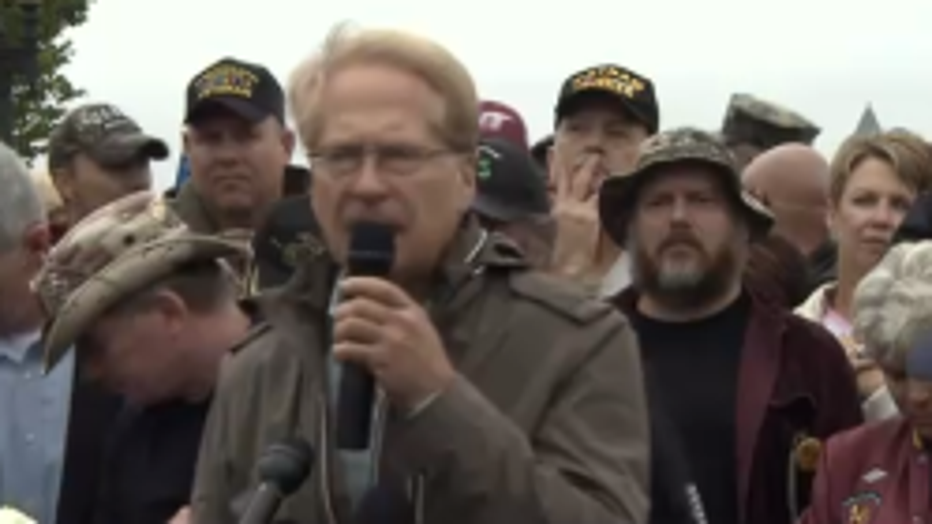 throughout the crowd and strong anti-Obama language from the podium and the audience.

One speaker went as far as saying the president was a Muslim and separately urged the crowd of hundreds to initiate a peaceful uprising.

"I call upon all of you to wage a second American nonviolent revolution, to use civil disobedience, and to demand that this president leave town, to get up, to put the Quran down, to get up off his knees, and to figuratively come out with his hands up," said Larry Klayman of Freedom Watch, a conservative political advocacy group.

On the first day of the government shutdown, October 1, a group of World War II veterans was barred from entering the open-air memorial. But with the help of a few Republican members of Congress, the veterans removed the barricades and streamed onto the site, as security guards stood aside.

For more on this CNN story, click here.