Taxpayer waste? Contractor paving road, tearing it up, repaving it to avoid fees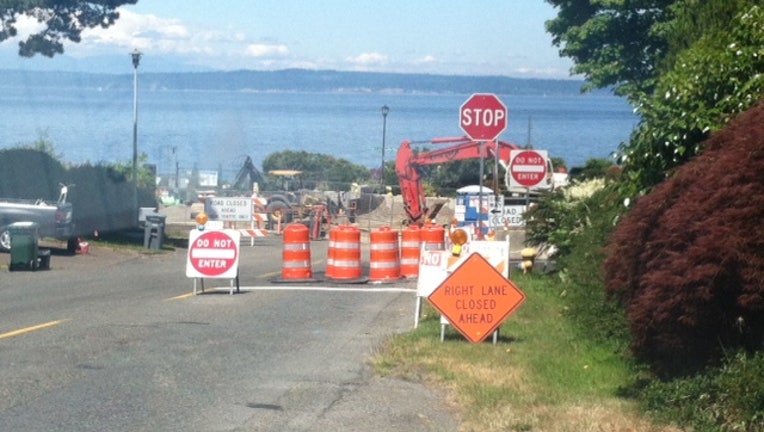 SEATTLE -- Neighbors in the Blue Ridge area of north Seattle are fuming over a construction paving project that will tear up a road twice.

"I think that's a huge waste of taxpayer money," resident Jan Gravemaker said Wednesday. "There is no winner in this game because the project will just take longer."

The North Beach CSO Control Project is already a two-year, $24 million construction project to add a new sewage overflow tank just above Puget Sound.

The contractor, Stellar J Corp., is making $9.6 million on the project. The King County Department of Natural Resources' Wastewater Division says the contractor will pave Triton Drive NW and reopen it for just 10 days, then shut it down and tear it up all over again to avoid an increasing street-use fee.



Seattle Department of Transportation charges contractors a fee every 10 days when an arterial street is closed to traffic. The fees keep doubling each month the longer the road is closed.

"The purpose of the fee is to incentivize and minimize impacts, not extend or delay projects," said SDOT right-of-way manager Brian De Place. "Paving something to only tear it up again is not efficient and a good use of anyone's resources or time."

"I agree that that doesn't necessarily make the most sense for the terms of the project. I also agree that SDOT is a cooperative agency, and that when they have become more aware of this, they're stepping up to find out a way that actually doesn't burden the project financially and also allows this to carry forth as smoothly as it can," said Pam Elardo, King County Waste Water Treatment Division Director.

King County tells us when a contractor bids on a project, they typically pad it to include these street-use fees. So the taxpayers have already paid the contractor for fees they will be able to avoid and neighbors wonder if the contractor is just trying to pad his own pockets.

The repaving is supposed to start July 3.