Tacoma cancer survivor fights back after photo turned into viral 'Meth Curry' meme


TACOMA -- A Tacoma cancer survivor is fighting back after someone stole his photo online and turned him into a cruel Internet joke.

A number of years ago Leon Mitchell II, 31, was diagnosed with cancer and went through some really hard times.

He had a tough battle with cancer and it did some visible damage to his appearance.

Some Internet trolls recently stole his photo and turned it into a "meme" saying he looked like NBA star Steph Curry if he was on meth using the hashtag #MethCurry. And unfortunately, it went viral earlier this week.




In reality, Leon is a cancer survivor. He has never done drugs.

He woke up one day as the butt of a cruel joke that just isn't funny, so Leon took to his own Instagram page to tell the real story.

Leon says he knows he can face this viral joke, but asks what about the people who can't?

"So earlier today I was the butt of a not so funny meme "METH CURRY" directed at the outward physical appearance that I display. The fact that the meme was posted was a reminder of how distasteful and cruel people can be without background knowledge of the person in the bullseye of the target. I've struggled deeply for years with the devastating effects cancer treatment plagued my body with. The massive destruction it took on my neck, shoulders, nose, throat, and ability to function normally. I though have overcome all of those things and become so much stronger then (sic )the after effects of cancer treatment, and proudly bare myself and ravaged appearance to the world with KNOE shame!! I am strong enough to endure these attacks after years of rebuilding. However as we look at the power story I explain, let's remember these types of social media attacks on people can be massively detrimental to some who still battle with insecurities and uncomfortability with themselves and their battles. If we are going to allow something like this go viral Let's do it for the right reasons! I am more then (sic) a meme, I am a father, husband, survivor, mentor, community advocate, and Positive motivational speaker. Proud to have endured and conquered everything I have!!!!"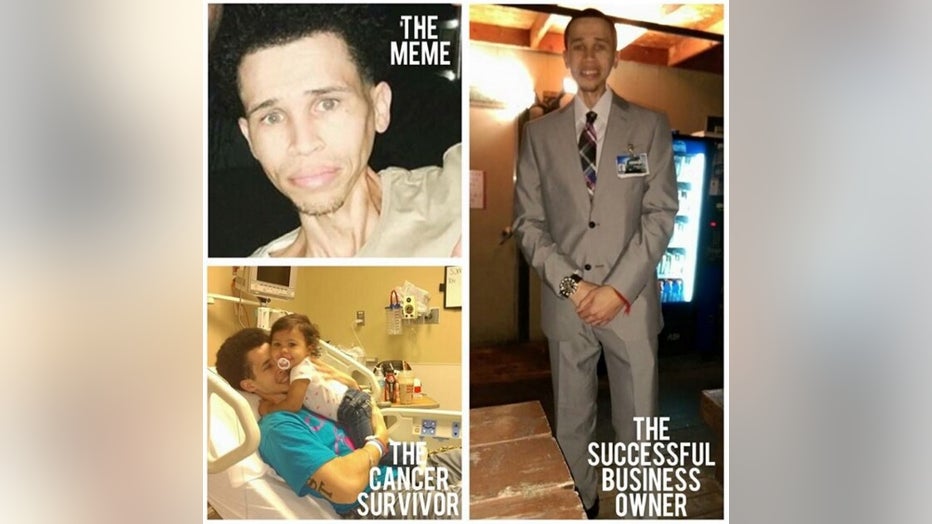 Leon Mitchell II shared this image with Q13 News.


This is Leon and his family today. Leon is a "husband, father, survivor, business owner, and man of GOD!!"