Sweden hunts for mystery submarine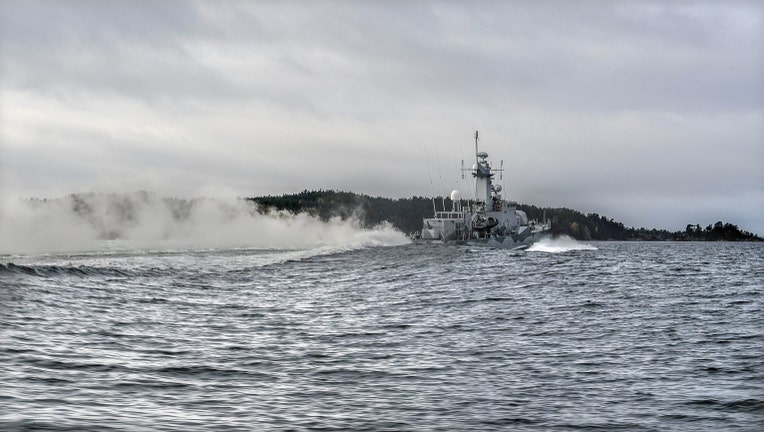 STOCKHOLM (CNN) -- There are fears of Russians and it is October, but it is not a Tom Clancy novel. It is a case of international naval intrigue off the Swedish coast that brings back memories of the Cold War.

The story began Thursday when Swedish intelligence picked up an emergency radio call in Russian, according to a report from the English-language website The Local, citing the Swedish newspaper Svenska Dagbladet.
On Friday more radio transmissions were intercepted, and there were reports of a foreign vessel spotted in waters around islands near Stockholm.
The Swedish military responded, sending ships and helicopters to search for the source of the radio transmissions, which were being sent to the Russian enclave of Kaliningrad, 330 miles (530 kilometers) south of Stockholm on the Baltic's southern shore, according to The Local report.
The intrigue deepened Sunday when the Swedish military announced at a press conference that it has been monitoring suspicious activity in the area for several years, according to another report in The Local.
Russia on Sunday denied it has any vessel in Swedish waters and suggested that if a foreign vessel is there it may belong to the Netherlands, according to a report from Russia's Itar-TASS news agency.
"On Sunday, October 19, the Russian Defense Ministry provided assistance wherever possible to the Swedes in their unsuccessful search, saying that there were no incidents with Russian warships (in the Baltic Sea), including submarines," a Russian Defense Ministry source told TASS in a report Monday.
"For easing tension in the Baltic Sea and saving Swedish taxpayers' money, we would advise (the Swedish side) to request explanations from the Dutch Navy command," the source said in the TASS report. It suggested the vessel might be a Dutch sub that was in Sweden for exercises last week.
The Dutch were quick to respond to the TASS report Monday, saying a sub involved in the exercises was anchored in Tallinn harbor of NATO-ally Estonia for the weekend, according to a report from Agence France-Presse.
On Monday, there has been no letup in the Swedish search for a suspected intruder, and the military vowed to continue searching at least for the next few days, according to The Local.
"We have good stamina," The Local quoted defense spokesman Dag Enander.
"We're using the sensors we have and are searching both from land and water," Enander was quoted as saying.
Civilian vessels were ordered to stay at least six miles (about 10 kilometers) away from a Swedish warship conducting searches around the Stockholm islands, The Local reported.
All the activity begs the question, why would a Russian sub need to snoop around in Swedish waters anyway?
Johan Wiktorin of the Swedish Royal Academy of War Sciences gave three possibilities to The Local:
"They could be mapping the waters in order to be able to navigate them in the event of hostilities," Wiktorin is quoted as saying.
"They could also be installing equipment, like sensors, that could track or get an observation of our units in that area," he goes on. "Or they could also possibly reconnoiter our (defense) systems."
Whether there is a Russian sub in Swedish waters or not, there is no question that Russian forces have been active in the Baltic and around the globe this year.
In July, a U.S. Air Force reconnaissance plane fled into Swedish airspace after the Russians took the unusual action of beginning to track it with land-based radar. The Russians then sent at least one fighter jet into the sky to intercept the U.S. aircraft.
And on April 23, a Russian Su-27 Flanker fighter jet buzzed within 100 feet of the nose of a U.S. Air Force RC-135U reconnaissance plane over the Sea of Okhotsk between Russia and Japan, a Defense Department official said.
Also on April 23, Dutch fighter jets scrambled to intercept a pair of Russian Tu-95 Bear bombers that entered a half-mile into Netherlands airspace.
On June 4, according to U.S. defense officials, four long-range Russian Tu-95 bombers, accompanied by an aerial refueling tanker, flew into the U.S. Air Defense Identification Zone, an area extending 200 miles (320 kilometers) from the North American coast, off Alaska, where they were intercepted by U.S. F-22 fighter jets.
Two of the Russian bombers peeled off and headed west, while the other two flew south and were identified by U.S. F-15 fighters within 50 miles of the California coast.
And last month, two Alaskan-based U.S. Air Force F-22 fighter jets intercepted two Russian IL-78 refueling tankers, two Russian MiG-31 fighter jets and two Russian Bear long-range bombers, according to Capt. Jeff Davis of the North American Aerospace Defense Command.
More than six hours later, two Canadian CF-18 fighter jets intercepted two Russian bombers in the Beaufort Sea, Davis said. Those Russian planes came within about 40 nautical miles of the Canadian coastline, he said.
Earlier this year, a top U.S. Air Force general said Russia was stepping up its military activities in the Asia-Pacific region as tensions increased over Ukraine and Russia's move into Crimea.