Suspects throw rocks shattering family home's windows and security


BURIEN – A family's sense of safety is shattered and their windows are boarded up after vandals returned for a third time throwing rocks at their home that could have seriously injured the family's young child.

Surveillance video shows two suspects hurling rocks at a Burien home just after 1 a.m. Sunday.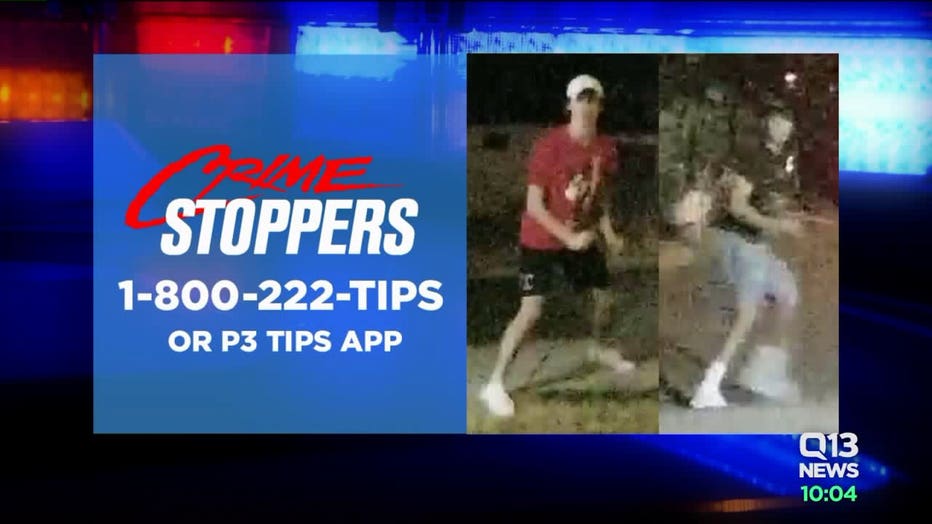 "When it started to happen, I thought it was gunshots because it was so loud," said the homeowner who did not want to disclose his name.

The homeowner says there was so much glass he couldn't make it to the front door in time to confront them.

"It took little bit of time for me to walk in my bare feet through the broken glass and come out and by that time they were halfway up that hill," said the homeowner.

He says this is the third time his home has been hit in the past couple of weeks. The homeowner says a few other houses were egged a few weeks ago, as was his, then the objects used became more dangerous, like rocks and weights in the following incidents.

"At first, I'm wondering who hates me, or who hates my wife and family, but it seems random," said the homeowner.

The homeowner says his corner lot off busy Maple Wild Avenue in Burien makes his house an easy target in the new development. He says early estimates bring the damage to at least $5,000 to replace the windows.

"If they had decided to throw the rock through another window, my son, he's 7-years-old would've woken up screaming, covered in glass," said the homeowner.

Sergeant Ryan Abbott with the King County Sheriff's office says crimes like this increase in the summer months and juveniles don't realize the severity of their actions.

"The amount of damage to these residents is considered a felony level crime," said Abbott.

Inside the home, the front window shattered into tiny pieces getting under the strings of the piano where the homeowner's son practices.

"I miss the sunlight coming through the windows," said the homeowner.

Around the corner in the dining room, more broken glass.

"This was all covered in glass. I'm mean this is where we sit and eat, you can't eat glass," said the homeowner.

He says he found large rocks and a pink one-pound weight around his house that the suspects used.

"There's my hand, that's the rock, like that thing was huge," said the homeowner with a large rock that fit into his palm.

He says it only took 20 seconds for these suspects to destroy his home. Neighbors are putting up cameras to protect their property.

"I'm feeling all the emotions right now. I'm angry at the situation. I'm scared for my family especially my son," said the homeowner.

He says his family moved to Burien for a sense of community, and with strangers stopping by to support him, he says he is feeling that now more than ever.

The neighborhood is pooling together money to hire an officer to monitor the neighborhood at night.  He has also reached out to

Intravaia Risk Management Group in Seattle for help developing innovative solutions to protect his home.

Crime Stoppers of Puget Sound is offering a cash reward of up to $1,000 to anyone who can identify the suspects.

Use the P3-TIPS app on smartphones or call 1-800-222-TIPS if you have any information.