Suspects sought in brazen armed robbery of Seattle pizza parlor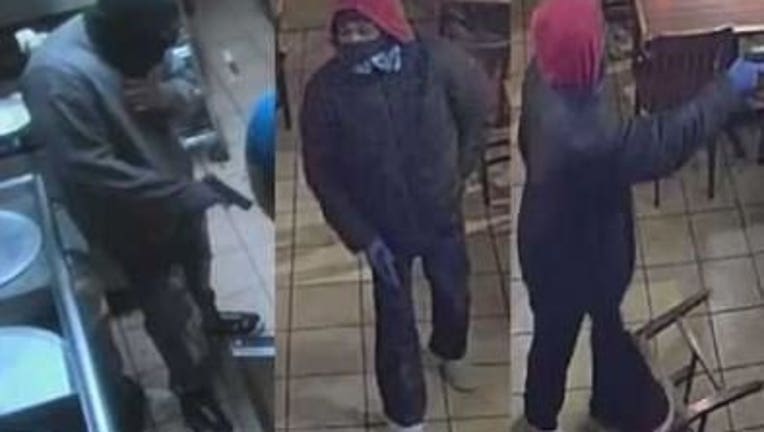 SEATTLE -- Detectives in Seattle are searching for the suspects who robbed a Seattle pizza parlor at gunpoint and also held up two patrons who were sitting at a table inside.

According to Seattle Police, the brazen armed robbery happened on July 31, when two men, both armed with handguns, walked into Alberona's Pizza at 3624 Leary Way NW.

The first suspect went behind the counter and held a gun up to an employee's head, forcing the worker to open the cash register.

The second suspect stayed in the lobby and dining room, then stole wallets from two customers who were sitting at a table.

"You watch these guys, he's very nervous," said Ret. Det. Myrle Carner with Crime Stoppers of Puget Sound.  "You see where he takes over the cash register himself. He pulls it out. He drops it on the floor. He picks up cash. He even left some of the cash behind ... They're either high on dope, or maybe it's just their first time they're doing this, but trust me, when they're turning guns like that, five pounds of pressure and anybody could have died at that scene."




Both suspects fled with an undisclosed amount of cash, possibly in a black Chrysler sedan EB.

"One of the people that was eating there, actually was a tow truck driver, ran out after them, saw the direction they were going and actually followed them in his tow truck. Got a pretty good description of the vehicle," Carner said. 

The suspects were described as black men in their 20s, about 5-foot, 10 inches tall with medium builds.

One of them was wearing a black ski mask and glasses with clear lenses and rectangular style frames.

"If you look close, from his nose up, you can see his eyes, you can see his nose. It's like when you go to a masquerade party. You go, 'Oh! That's such and such!' Well, that's what we're looking for," Carner said. 

If you have information about the suspects or the robbery, use the P3 Tips app on your smart phone to submit the information to Crime Stoppers, or call the hot line at 1-800-222-TIPS. 

There's a cash reward of up to $1,000 for information that leads to an arrest.