Suspected thief dies following shootout with Marine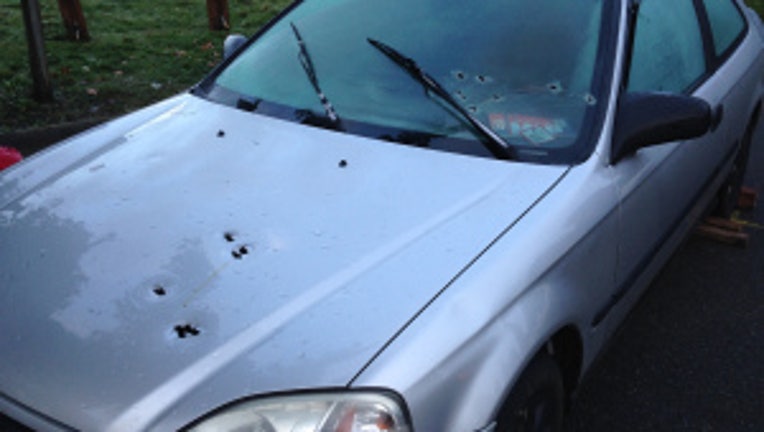 article


MAPLE VALLEY -- A suspected car thief died following a shootout with the car's owner Tuesday morning, King County sheriff's deputies said.

The incident happened just after midnight Tuesday in the 21800 block of SE 236th Place in Maple Valley.

According to sheriff's deputies, a man walking his dog noticed a 27-year-old man attempting to steal his truck. The thief, realizing he had been spotted, left the truck and ran toward an awaiting getaway vehicle.

Deputies said the truck's owner drew a gun and yelled "gun" in an attempt to stop the thief, who entered the getaway vehicle. The truck's owner fired into the engine block, stopping the car. The thief then allegedly pulled a gun of his own and and the men exchanged gunfire. The truck's owner fired multiple times at the thief, striking him.

The man was dead when police arrived at the scene. His identity has not been released. The truck's owner -- a Marine who served in Iraq -- was briefly detained before being released, officials said. He has a valid concealed weapons permit.

The case will be forwarded to the King County Prosecutor's Office, which will decide whether or not to file charges against the truck owner.

A witness to the scene, the Marine's aunt Kristen Hague, said the Marine even tried to perform CPR on the suspected thief while awaiting the police. She also said he pushed her out of the way during the gunfire.



"I think he saved my life," Hague said.

Neighbors who heard the shots said at least eight rounds were fired between the individuals.

A female from Kent who was at the scene with the suspect in a stolen Honda Accord was arrested and charged with driving a stolen vehicle as well as having a warrant for her arrest, police said.