Suspect who followed woman home from Metro bus to steal her purse surrenders


SEATTLE -- King County Prosecutors have charged a 16-year-old suspect accused of following a woman off a Metro bus on April 6th before stealing her purse with Theft in the 1st Degree.   According to official court documents,  detectives say they identified him thanks to anonymous tips.   Crime Stoppers of Puget Sound is paying a cash reward to the two Washington's Most Wanted viewers who provided the best information to detectives which helped confirm his identity.  We are not naming the suspect because he is charged as a juvenile.

Court records show the suspect's mother and father brought him to surrender at Seattle Police headquarters on May 1st.

He is WMW Capture #1090 thanks to tips from our  viewers.

If you have any information on the other suspects involved in the purse snatching cases, Crime Stoppers of Puget Sound will pay you a cash reward of up to $1,000.  Submit an anonymous tip via the P3 Tips App on your cell phone or call 1-800-222-TIPS (8477).  You can also go to www.P3Tips.com so provide the information and any photos you have of the suspects.

ORIGINAL STORY
Seattle Police are asking for your help to identify a purse-snatching suspect and his criminal crew after seven robberies, so far, this month.

Victims who are all Asian women over 60 have been hurt in two of the robberies -- when they were punched, or body slammed to the ground.

Detectives are also asking for help to locate a 2005 to 2010 Volkswagen Jetta used as a getaway vehicle in many of the robberies. The Jetta has a moon roof and orange running lights on the left and right side of the front bumper.

The robberies involving at least three suspects occurred in the Rainier Valley area between April 4th and April 18th.

The suspects appear to be identifying lone, older women as their targets.

The image above is from a Metro bus after the suspect  followed a victim and stole her purse outside her apartment. In all of the cases, the suspects follow the victims home and then rob them of their purses once they exit their cars. "I was leaning to put something in and that's when I felt two arms on my shoulders. I started yelling at the top of my lungs. I said, 'Stop,' I said, 'Help,' said one victim who asked not to be identified for her safety.




The robberies occurred at: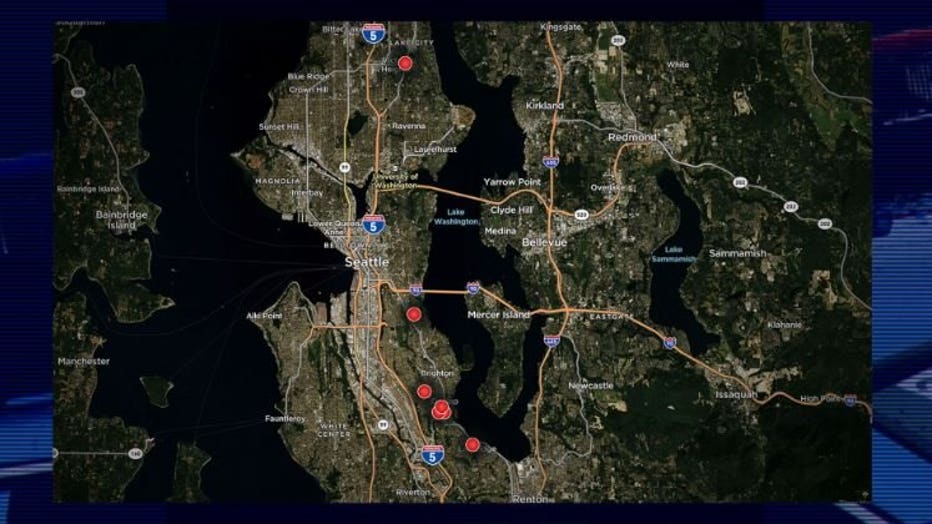 One victim was hurt when the thieves knocked her to the ground. She was taken to the hospital.