Suspect, victims in deadly mall shooting identified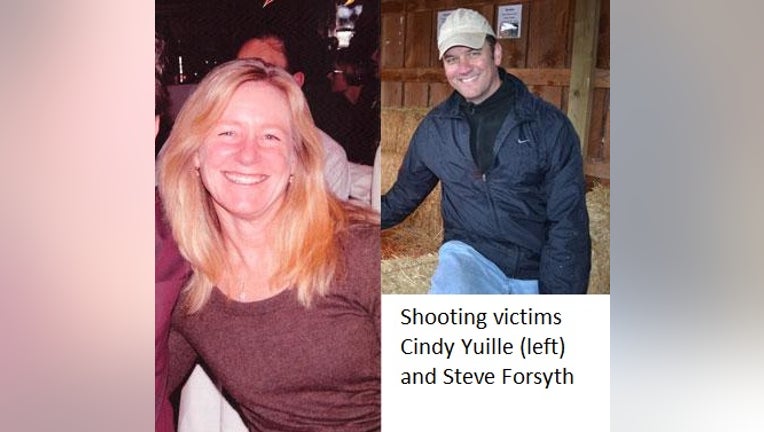 CLACKAMAS, ORE. -- About 3:30 p.m. on Tuesday, a man entered the Clackamas Town Center mall south of Portland and opened fire, killing two people before turning the gun on himself.

The Clackamas County Sheriff's Office identified the suspect Wednesday as Jacob Tyler Roberts, 22, of Portland. Police said that Roberts was armed with an AR-15 semi-automatic rifle, which was stolen yesterday from someone Roberts knew.

During the attack, Roberts was wearing a load-bearing vest -- a vest typically used by the military to hold various attachments or ammunition -- and a hockey-style face mask.

Police have not determined how many shots Roberts actually fired during the incident, but said they believe he was carrying a large amount of ammunition. There is no known motive at this time, but police do not believe that Roberts knew his victims.

The victims have been identified as Cindy Ann Yuille, 54, of Portland and Steven Matthew Forsyth, 45, of West Linn. Another victim, teenager Kristina Shevchenko, survived the incident and is being treated at Oregon Health & Science University.

Shevchenko also recently survived a head-on fatal car accident in August, according to a Facebook page maintained by a family member. Shevchenko was at the mall with her friend when the gunman came out the Macy's store and started firing.

Family members said she was listed in serious condition at a Portland hospital. Some bullet fragments hit her lung and liver. The incident was Shevchenko's second near-death experience in months, officials said, after she was hit by a drunk driver while riding in a van. Her family said she is conscious and talking.



"We are optimistic about her recovery, but we have to be realistic," a family member said on her Facebook page. "(This was) a serious wound from an assault rifle."

Family members also wanted to thank Shevchenko's friend, who stayed with her at the mall after she was shot.

"The first person to be thanked is Alyona, her friend and schoolmate at Clackamas Middle School," her family said. "She immediately called 911 and remained by her side until the emergency service providers arrived."

In a statement, Yuille's family said that, "Cindy was everybody's friend. She was a wonderful person who was very caring and put others first." Yulle lived in Northeast Portland and was shopping at the mall when she was shot.

Forsyth's family said that he "was a loving husband, father of two children, son, brother, uncle, youth sports coach and friend to the many people who had the privilege to meet him." He owned a store at the mall, his family said.

"Steve was one of the most passionate people with a true entrepreneurial spirit that drove him to start his business, Coastoms. He had a great sense of humor and a zest for life. He had vision and a belief in others that brought great joy and value to many lives. He will be sorely missed by all who knew him."