Suspect in deputy's murder was wearing body armor, shot himself in the head during gun battle


TACOMA, Wash. - The suspect who died during a gun battle with a Pierce County sheriff's deputy earlier this week was wearing body armor and shot himself in the head, officials said Wednesday.

Sheriff's deputy Daniel McCartney, 34, of Yelm, was fatally shot Sunday night while he was investigating a home invasion in Frederickson. One suspect, Henry Carden, was killed at the scene.  The other suspect, Frank Pawul, allegedly fled and a manhunt was launched before he was apprehended on felony warrants and eventually booked on suspicion of first-degree murder.

The Pierce County Sheriff's Department released many new details of the chaotic scene during a news conference Wednesday afternoon in Tacoma.

'We need to address rumors'

Sheriff Paul Pastor and Det. Ed Troyer said they hoped to dispel rumors and clarify details of the murder investigation. They had three main points:

A gun battle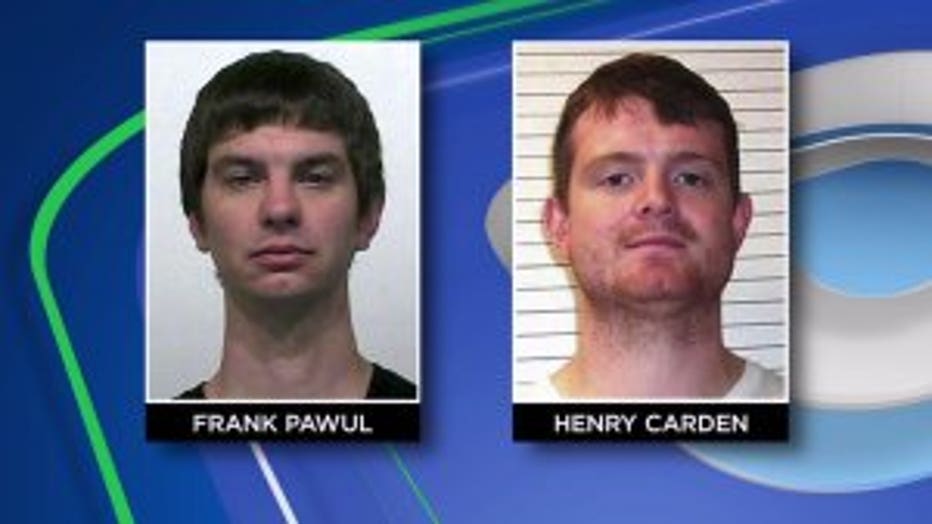 Authorities said Carden had a criminal record including burglary, assault, harassment and theft. Carden was wearing body armor when he and Pawul got into a gun battle with McCartney.

McCartney fired five rounds before he was shot once in an area that was not protected by his vest. He died instantly.

"This is very unfortunate that the one round that hit our deputy hit him in the worst possible spot ever," Troyer said. "Our deputy was wearing a vest - it does not matter in this case. Really unfortunate."

Carden shot himself in the head during the gun battle, Troyer said.

"One of the shots our deputy fired would have led to his death, but the suspect fired his own weapon into his own head," Troyer said.

Suspect caught on camera

The second suspect, Frank Pawul, climbed a barbed-wire fence, Troyer said. A neighbor's camera captured Pawul climbing the fence and getting scratched before Pawul hid inside a garbage can for several hours.

A trooper later stopped Pawul and took him into custody on unrelated warrants. Pawul reportedly was carrying bear spray and a pocket knife, was wearing ripped pants, and had large cuts on his hands. He gave the trooper a false name and said he was in the area to visit his girlfriend.

As the day progressed, investigators say they were able to connect Pawul to the deputy's shooting and book him into jail. Detectives said they found text messages between Pawul and his girlfriend regarding the robbery and shooting.

Sheriff's department provides timeline of events surrounding fatal shooting of deputy

Investigators searched the area and found a safe and a backpack that had been stolen from the house, as well as a .45 caliber handgun.

Witnesses said the mobile home where the shooting occurred was a trap house, and detectives said all four adult residents of it were selling or using heroin.

"This is unfortunately something that happens a lot," Troyer said. "As soon as we shut these houses down, they pop back up."

Investigators believe the home was targeted because Pawul and Carden wanted the heroin and money they believed would be inside.

There are two children who live in squalor inside the home, and Troyer said "the parents are going to be held accountable."

'A terrible murder'

Pawul, 32, was led into court Tuesday wearing shackles while Pierce County Sheriff Paul Pastor looked on from the gallery.

"A terrible murder - not a tragedy - that sugarcoats it," Pastor said. "A terrible murder."

Pawul could be charged later this week with first-degree murder.

A 52-year-old woman  was also arrested because detectives believe she drove the two male suspects to the home in Frederickson. Detectives believe she became startled after hearing sirens and fled the scene. She was later arrested in a parked car elsewhere in Pierce County. She was booked into jail on suspicion of rendering criminal assistance, Troyer said.

More deputies needed

Sheriff Paul Pastor reiterated the need for more deputies in Pierce County.

"We have a large county and we need the resources to adequately protect its residents," said Pastor. "In a few years, there will be 1 million residents in Pierce County. We need to find a way to provide the level of service that the residents expect and deserve."

"We have less than one deputy per 1,000 residents. Several surrounding agencies have two or more," said Troyer.

How you can help

A candlelight vigil will be held at 6:30 p.m. Friday, Jan. 12 at Life Center Rainier (17708 28th Ave E., Tacoma).

The sheriff's department also announced details for a celebration of life service that will be open to the public. The service will be from 1-3 p.m. on Wednesday, Jan. 17 at Pacific Lutheran University's Olson Auditorium.

Sheriff's spokesperson Det. Ed Troyer said anyone who would like to help McCartney's family can donate to the Deputy Daniel McCartney Legacy Fund at Tapco Credit Union, or by donating online through Crime Stoppers of Tacoma-Pierce County.