Students take fight to Archdiocese over ousted vice principal


SEATTLE -- Local Catholic high school students and others demonstrated outside the Archdiocese of Seattle Friday to protest the ouster of the vice principal of Sammamish's Eastside Catholic School, who was forced to resign after his same-sex marriage.

It wasn't just students from Eastside Catholic protesting on behalf of former Vice Principal Mark Zmuda, there were also students from several other Catholic schools.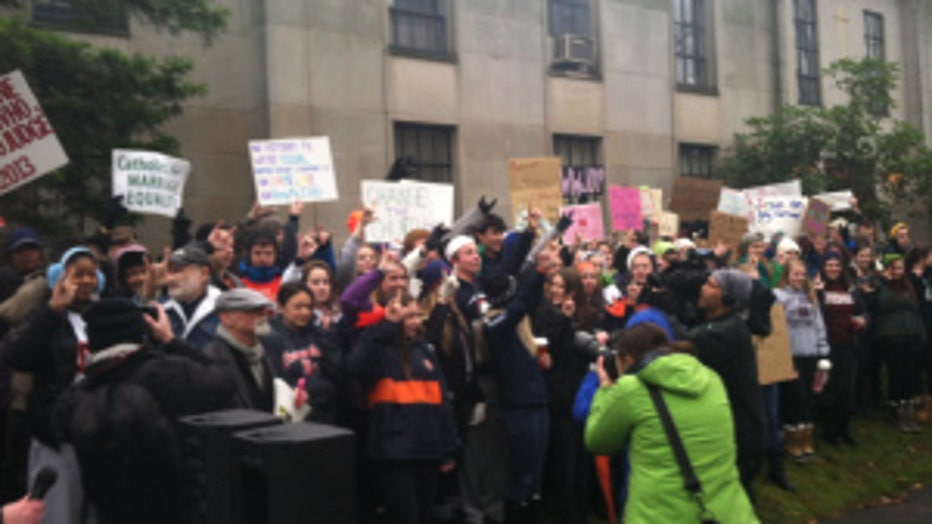 They stood outside the Archdiocese of Seattle building with signs and chanted, "Love always wins; change the church."

Seattle Mayor-elect Ed Murray made a brief appearance to show his support for the students.

"I just want to be in solidarity with the students because the students are the ones who will make a difference," said Murray, who is also married to a same-sex partner. "We are seeing a generational change being led by young people you see here."

Friday was Zmuda's last day at Eastside Catholic. The openly gay administrator was forced out of the school after he got married to his partner. The school said the issue is not that Zmuda is gay but that the Catholic doctrine does not allow gay marriage. Students say the doctrine is outdated and change is inevitable.

"I understand the church policy on gay marriage and I understand they are protected by law, but I feel like, if this is ever going to change, it's going to be internal pressure that's going to do it," Seattle Preparatory School student Cole Fischer said.  Seattle Prep is a private Jesuit school on Seattle's Capitol Hill.

"I am here to support my daughter. I am just so proud of her and her classmates with what they have done standing up for their teacher," Eastside Catholic parent Katie Myers said.

On Thursday, the students protested at Eastside Catholic. On Friday they took their fight to the Archdiocese of Seattle, hoping that would get Zmuda his job back. The students are hoping to present a petition to the diocese. In just two days the petition on change.org had already gathered more than 18,000 signatures.

There was no response to our calls as of Friday evening from the diocese. A lawyer representing Eastside Catholic said they respect the right to protest but that there are no plans to rehire Zmuda.