Students react to Eastside Catholic president's resignation


SAMMAMISH, Wash. -- Students at Eastside Catholic say they are one step closer to reinstating their ousted vice principal after the head of the school suddenly resigned on Tuesday.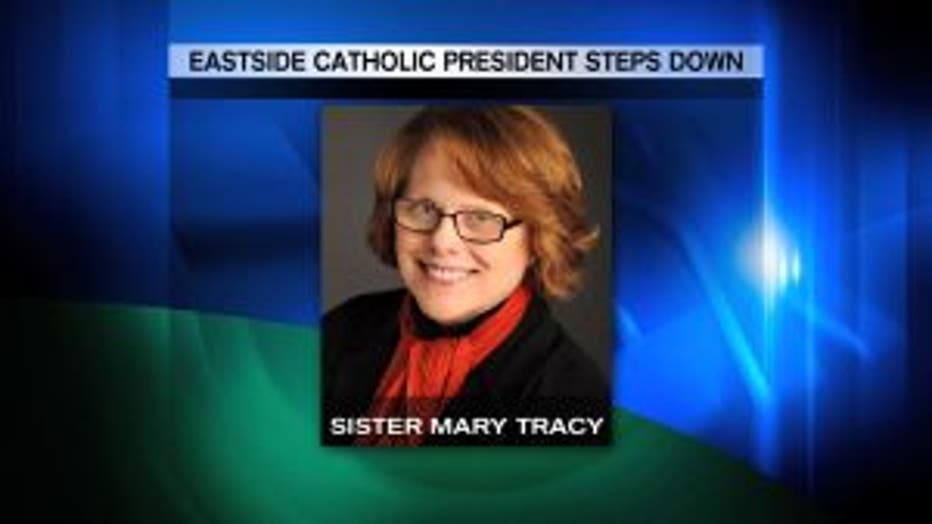 Mark Zmuda was forced out of his job last month after the school discovered he married his male partner.

Many students and parents were are sad to see Sister Mary Tracy leave the private school, but some kids say its exactly what needs to happen to change the school's stance on same-sex marriage.

"The goal of this whole thing is to get Mr. Zmuda back," said senior Julia Burns.

What started as sit-ins and protests nearly a month ago has turned into a national movement to reinstate Zmuda.

"Now that she's gone we can hopefully hire a new head of school that can be more open minded and definitely more sympathetic to the situation and get Zmuda back," Burns said.

The president of the school, Sister Mary Tracy, suddenly resigned on Tuesday. The news sent shockwaves through Sammamish.

"I'm really sad and I really, really liked Sister Mary Tracy," said parent Tracy MacKenzie. "She's been great for our school."

Zmuda says he was forced to give up his job as vice principal when school officials discovered he married his long time male partner. Sister Mary Tracy terminated Zmuda back in December.

Now some Eastside Catholic alumni say it's time for Zmuda to get his job back, and they're circulating a petition.

"It's sad that we're here and that it came to this but this is what had to happen to reopen an open communication with the board and to set things right," said Florence Colburn.

Some parents think it's a tall order to ask the private school to split from its religious view on same-sex marriage.

"I understand both sides of it," said MacKenzie. "Either way it works out, I can understand the reasoning for it."

The search for Sister Mary Tracy's replacement is already underway.

Alumni plan to turn in their petitions to the school's board of trustee's during Thursday's meeting.