Stuck in-between: Middle-aged 'Sandwich Generation' caring for parents and children
SEATTLE, Wash. -- Ages 45 to 64 are the sweet spot for the American worker.

It's age where are at their earnings peak.  Middle-aged parents in their 40s and 50s should be saving for retirement, paying off a home loan, or even taking that dream vacation.

But for many, these years come with new burdens never before seen in American history. Increasingly, middle-aged Americans find themselves as part of the "Sandwich Generation," people paying to take care of their aging parents and not-yet financially stable kids.

Recent studies have shown the Sandwich Generation is growing, with thousands of Washingtonians shouldering extra responsibilities to help loved ones.

Q13 News will examine the Sandwich Generation in the coming weeks, and the burden of financial and emotional support the generation faces.

Who is the Sandwich Generation?

Nearly half of  Americans in their 40s and 50s have both a parent age 65 or older, and a young adult child
according to a Pew Study.

Classically, this statistic didn't mean financial burden. Often times, older parents had company pensions and lived modestly in homes they owned. Also, young adults found jobs, quick to get out of the house when they turned 18.

But times have changed.

Brian Whitaker, a client adviser at Laird Norton Wealth Management, says compounding factors may have lead to more in the Sandwich Generation.

"School tuition is more expensive than it used to be," Whitaker said. "And healthcare costs for the older generation are going up, too."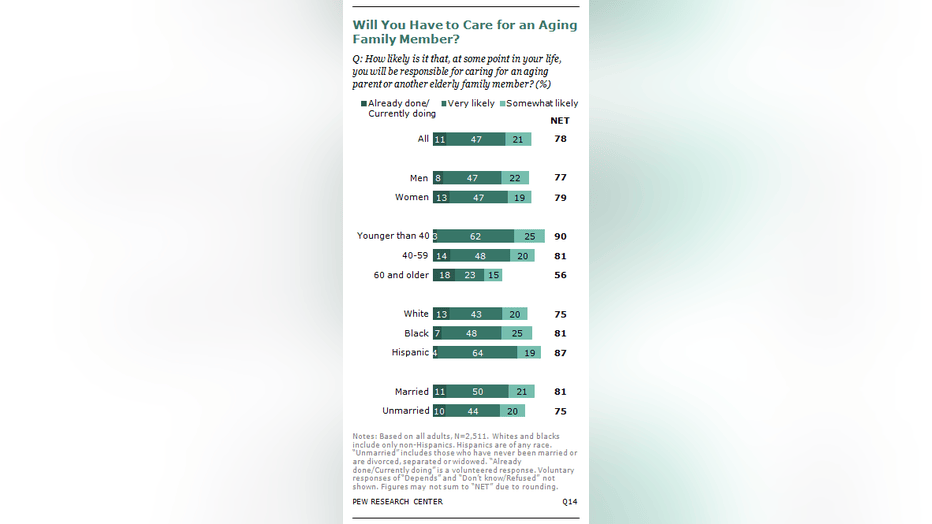 First, children are taking longer to grow up and support themselves. Roughly half of adults ages 40 to 59 have provided some financial support to at least one grown child in the past year, according the the Pew Study. More than 27 percent of parents provide the primary support for their grown child.

Second, middle-aged adults are called on more and more to support their parents. As pensions dried up, and a financial crisis in the late 2000s took a toll on investments, elderly people reached to their children for help.

About one-in-five middle-aged adults have provided financial support to a parent over the past year.

 

A combination of these means one in seven middle-aged adults provides at least some support to both a young adult child and an aging parent.

Caring for their kids, caring for parents. Sandwiched in the middle.

More than financial

It's not just financial. The Sandwich Generation fields emotional hardships too, studies show.

In some cases, middle-aged parents have their 20-something children living with them. Or, they care for their aging parent. In a few cases, the Sandwich Generation houses all three generations under one roof. Nearly 40 percent of middle-aged adults say both children and parents rely on them for emotional support.

This emotional support takes a toll. The Sandwich Generation is more likely to feel rushed than other adults. The older the parent, the more likely they are to need emotional help.

"It becomes, 'how do I help my mom safe?'" Whitaker said. "How do I get them to avoid falling victim to scams?"

Tips for dealing

In the coming weeks, we'll talk to psychologists and behavioral scientists to learn coping mechanisms to deal with stress as a member of the Sandwich Generation.

It's important to talk to your aging parents and young adult children, for instance. Open up and letting them know your concerns.

Whitaker says it's important to have frank, honest conversations with your parents about their wealth.

"How well is your parent set up?" Whitaker asks. "Do you have all the right documents in place? Are your parents where they need to be
financially."

Whitaker says his company sometimes recommends long-term care insurance.

It's also important to have a talking, working relationship with your spouse. Increased burdens are difficult to deal with on your own.

Sometimes, hiring outside help is necessary. Even someone to look after parents for a few hours a week, or sending the kids to a friend's house for a few days is a good step.

Stay tuned for more tips on how to cope.

Help us learn

Q13 News is looking to hear from people in the Sandwich Generation. If you support both your parents and children, contact us at tips@q13fox.com.