Strong winds and rain: storms hit Western Washington starting Monday


SEATTLE -- It's going to be a wet and windy start to the workweek for just about everyone in Western Washington.

The National Weather Service in Seattle has issued a High Wind Warning for San Juan County, and western Whatcom and Skagit counties. That means sustained 30-40 mph winds are likely with gusts up to 60 mph.

A Wind Advisory has been issued for King, Kitsap, Lewis, Mason, Pierce, and Snohomish counties.




Q13 Chief Meteorologist Walter Kelley said Monday will start out with passing showers and some winds, but the region will become very wet and windy around lunchtime and for the evening commute.

The strongest gusts will be north of Seattle, with "places like Bellingham getting gusts over 55 mph," Kelley added.

Seattle and the Metro will get gusts around 40 mph. The coast will get gusts over 60 mph.

The strongest gusts and will happen around 3 p.m. Monday. Walter said he would expect power outages at that time.

Get prepared for winter weather

Monday's storm will bring over ½ an inch of rain to the region. So standing water on the roadways Monday afternoon is very likely.

Tuesday

Tuesday will also be wet and windy.

Kelley said, "Tuesday's system is a little weaker with wind, but heavier with the rain."

Tuesday's wind is expected to be around 35 mph, but rainfall totals could be about an inch which would bring about some urban flooding. Isolated thunderstorms are in the forecast as well.

Tuesday is also the big snow day up at the passes. Kelley said the passes will get 6 or more inches and ski areas will get well over a foot.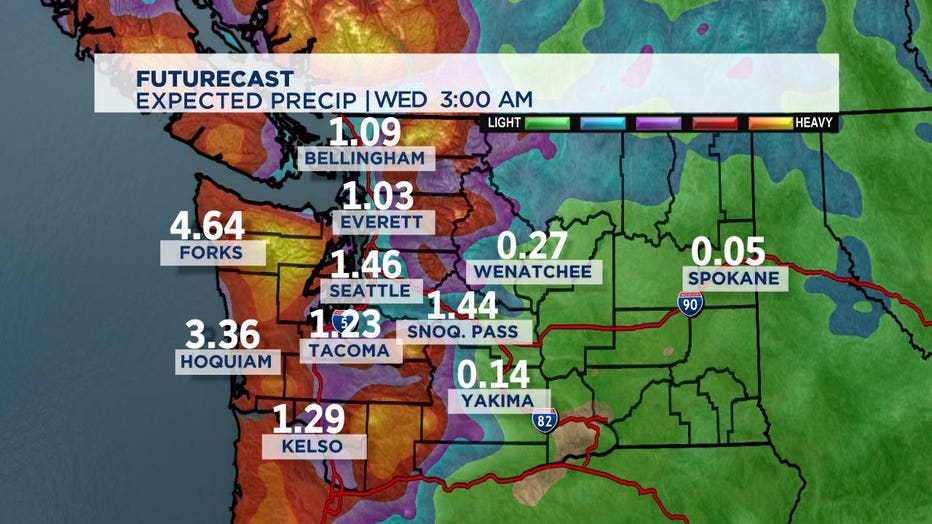 The rest of the week

Wednesday through the weekend will be unsettled and colder, according to Kelley.

"I'd expect delays or closures on the passes this week," Kelley said. Adding that snow level could drop around 1,500 feet so some areas could "lowland snow" later in the week.