Strong offense helps Hawks sail past Vikings, 30-20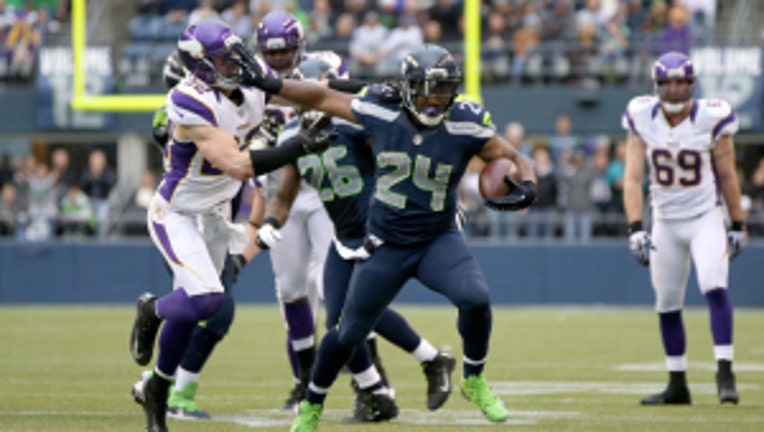 SEATTLE—
It's no secret. The Seahawks like playing at home.

Russell Wilson and Marshawn Lynch led the Seattle Seahawks to a 30-20 victory over the Minnesota Vikings Sunday at CenturyLink Field, carrying the Hawks to a perfect 4-0 record at home so far this season.



---



And despite giving up more than 180-yards on the ground to Minnesota's star running back Adrian Peterson, the Hawks made it look easy.

Well, for the most part.

Peterson, the NFL's leading rusher, broke out for a 72-yard run on the second play of the game, setting up a 1-yard TD run to put the Vikings up 7-0 early.

But the Hawks capitalized on a fumble recovery forced by cornerback Marcus Trufant and answered back with a 6-yard touchdown pass from Wilson to widereceiver Golden Tate. Wilson then connected with Sidney Rice for an 11-yard TD pass, Wilson's second of the quarter and third of the game.

The Hawks went into halftime leading 20-17. Then, they let their own star running back take over. Lynch finished the game with one touchdown on 26 carries for 124 yards. Wilson ended up going 16-for-24 for 173 yards and three touchdowns. Wilson also didn't throw an interception, helping the Hawks secure both the turnover and penalty advantage. The team failed to give up a turnover all game and only suffered four penalties for 49 yards.

And though Peterson couldn't be denied another great performance, the Hawks defense held the Vikings passing offense to just 44 yards, with Vikings quarterback Christian Ponder going 11-for-22 and one interception.

With the victory, the Hawks go to 5-4 on the season. The team will face off against the New York Jets  Nov. 11 at CenturyLink Field.