Strangers dive into icy water to pull man from submerged car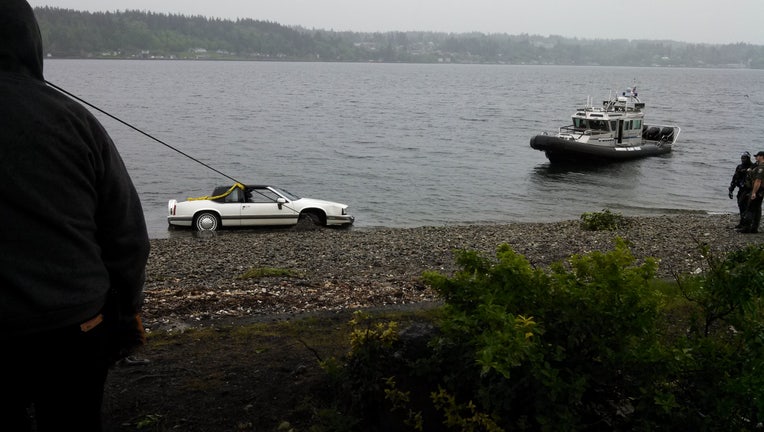 article


BREMERTON -- Strangers jumped into action to save an elderly man when they saw his car sinking in the Sinclair Inlet Thursday.

The 88-year-old Bremerton man is now in intensive care at the hospital. But police say the driver would not have survived this accident, if there had not been Good Samaritans in the area.

Jim Deighan and his wife were working in their front yard, when they saw a car coming down the street at about 50 mph.  It was heading straight for the Sinclair Inlet.

"I just followed it, ran out, down the hill," said the 78-year-old Bremerton resident. "I saw the car being submerged."

He told his wife to call 911, as he jumped in and started swimming.

Jenson Charnell and Jon Watkins were working on a boat across the inlet at that same moment.

"We turned, saw the splash of the water, and immediately punched our vessel towards it," said Charnell, who works for Safe Boats.

"Everything happened so fast, I just jumped in the water," added Watkins.



He could see the driver behind the wheel, but he couldn't get the seat belt loose. So he asked Charnell for a knife.

"I went into the water, it wasn't even a thought, it was just a motion. It was just a matter of trying to get the knife to them as quick as possible and trying to get this gentleman free."

First-responders showed up, and together they were able to get the driver out of the car and start performing CPR. It appears the 88-year-old driver had a medical emergency and lost control of his car.

"They said that he had drowned, and they were able to revive him," said Sheryl Bell, the victim's daughter-in-law.

She said that although he still has a tough recovery ahead of him, the only reason he's alive is because so many people jumped into action.

"We think it's wonderful that strangers would want to come and help."

One of the police officers involved in the rescue agrees.

"I was impressed with the people who were there," said detective John Bogen, with the Bremerton Police Department. "I get paid to do this, they don't. They're the one that deserve the praise. They jumped in there, because they're good people."

But not one of them is comfortable being called a hero.

"I just happened to see it," said Deighan.

"I would hope someone would do it if I was in that situation," added Watkins.

"We were very happy to be of assistance, but we were just doing what I think anyone would choose to do," said Charnell.