Storm covers roads with sleet on Key Peninsula, while tornado touches down in Oregon
SEATTLE -- A thunderstorm left 3 to 4 inches of sleet and standing water on roads on the Key Peninsula Tuesday night, while a tornado touched down and caused damage in Oregon.

Just after 6 p.m., Key Peninsula Fire said that State Route 302 NW near 360 park was covered in 3 to 4 inches of sleet and that several inches of standing water was left on roads elsewhere from the storm cell that had moved through the area.

Here's two videos from Gig Harbor sent in by Q13 News viewer Cullen Higgins:




The National Weather Service in Seattle said a broad area of rain from Tacoma up to Seattle and from Bremerton to the Cascades will probably hang around through 9 p.m. while moving slowly to the east.

In Oregon, the National Weather Service confirmed a tornado hit Canby on Thursday afternoon.

Firefighters said two small unoccupied planes broke from their tie-downs and flipped over at the Aurora State Airport.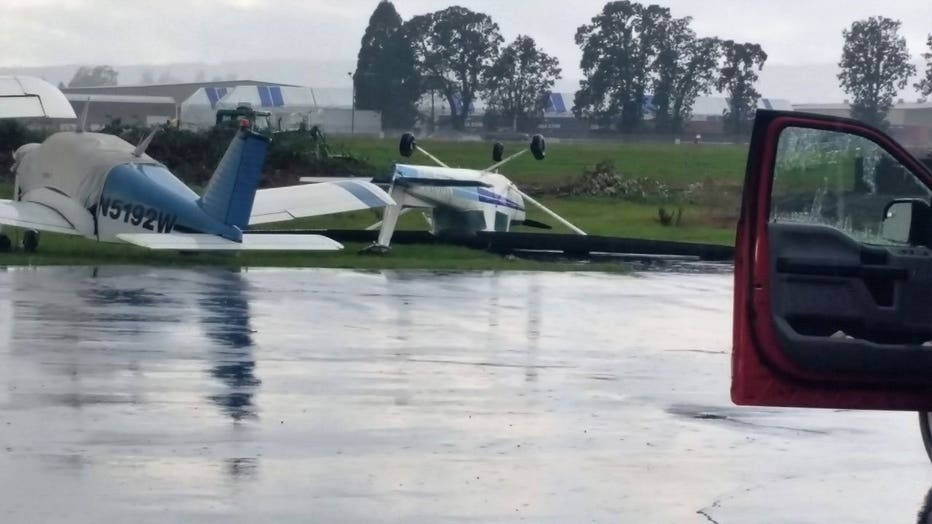 A second plane that was flipped by a tornado at Aurora State Airport in Oregon.(Photo: Aurora Fire District)


No injuries were reported at the airport.




A large tree broke in half nearby and fell across Boones Ferry Road Northeast, bringing down multiple power lines.

Smith Gardens in the area sustained damage to multiple glass greenhouses and the main office from the storm. Workers said a tornado touched down and moved across their property.

In Seattle, Thursday was the coldest day since March 26, Q13 News Chief Meteorologist Walter Kelley said.

"We have passing showers with isolated thunderstorms" through Friday morning, Kelley said. "These storms can produce hail, lightning, gusty winds, so remember, when thunder roars head indoors. "

And viewer Jay George sent this video from Federal Way:




Several inches of snow at the pass level are expected overnight, so the roads will be slick up there Friday morning if anyone plans on driving over the passes. The high mountains will pick more than a foot of snow, Kelley said.