Storm beat Mercury 75-72 in opening night victory at KeyArena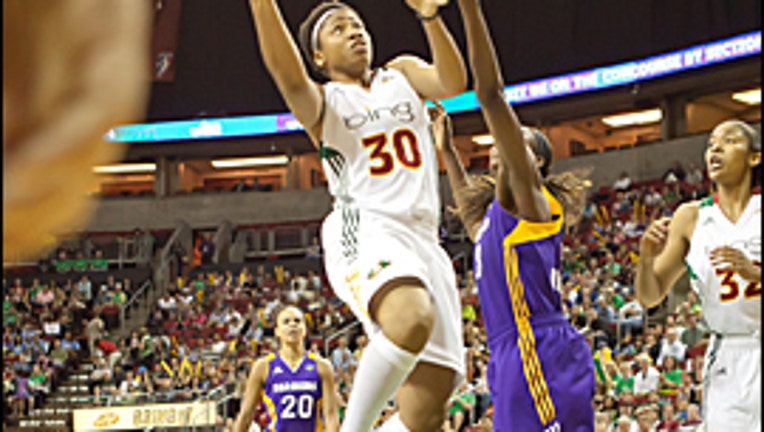 Seattle — The Seattle Storm beat the Phoenix Mercury 75-72 in front of a sellout crowd at KeyArena.

Seattle was led by Tanisha Wright's game high 20 points. Camille Little added 13 points and Tina Thompson chipped in seven points and six rebounds.

Phoenix was paced by Candice Dupree, who scored 18 points and had five rebounds. Brittney Griner added 17 points and seven rebounds. Diana Taurasi had 10 points in the losing effort.

Phoenix jumped out to an early lead in the first quarter, scoring the first eight points. The Mercury built it's biggest lead of the night of the night in the first quarter, up 20-9 , but Seattle dug in defensively and clawed back into the game, closing the score to 22-16 at the end of the first quarter.

With it's trademark defense, the Storm frustrated Diana Taurasi and Brittney Griner. Taurasi was kept at bay most of the night, scoring only 10 points, as she accumulated 5 personal fouls. Griner who scored 17 points, was bothered all night by the waves of Storm players defending her in the post. Her frustration showed with a flagrant foul after setting an illegal screen and a technical foul for slamming the ball into the media table after a missed pass.

Griner led all players with seven rebounds, while Tina Thompson had six for the Storm. Temeka Johnson had six assists and Shekinna Stricklen had 11 points. Charde Houston led Phoenix with 6 assists. Tina Thompson was  the Player of the Game in front of 9,686 fans

at Key Arena. This is Thompson's first game since the announcement of her retirement.

The Seattle Storm are back in action Friday, June 7th when the Tulsa Shock come to town. Tipoff is at 7 P.M.