Stories of survival: 'It looked like a big meat grinder ... absolute carnage'


MOORE, Okla. -- It was a massive tornado that dropped from the clouds: Wind speeds near 200 mph or greater. It was 2 miles wide and on the ground for 40 minutes.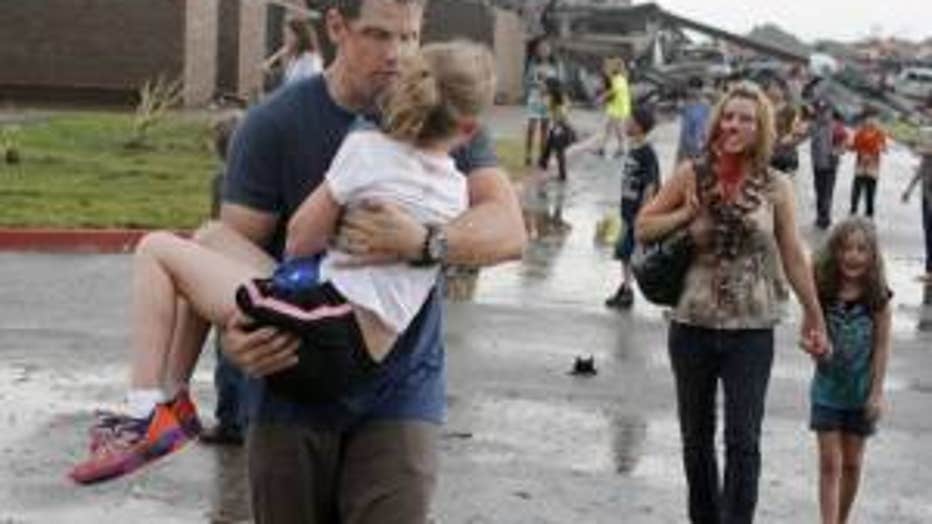 Bloodied teachers carry children away from Briarwood Elementary School after a tornado destroyed the school. (Photo: Paul Hellstern, The Oklahoman)


From the air, the devastation is just unbelievable -- entire neighborhood demolished, schools destroyed and the local hospital heavily damaged.

Those caught in the path of the twister recount the horror of what they saw.

"Kids everywhere, people running around screaming. There were cars on their sides. School is just gone. I mean you really can't tell what the front was and what the back was anymore," one survivor said.

Another survivor said. "It just looked like a big meat grinder, blender, just the way the movies make it look, absolute carnage, sky full of things that need to be on the ground. It was insane."

Moore, Okla., suffered a direct hit.

Plaza Towers Elementary school was destroyed and at least seven children died inside.

"It was just debris, there were just cars beat up. My mom was flipping out about her car. She was on top of me.  She was able to be with me.  She's a 6th-grade teacher, she was my fourth hour," student Brady said.

Briar Elementary School was also hit hard but students there a little more fortunate.

"Me and four other guys pulled a teacher out. She was on top of three kids. The kids were fine. She was hurt pretty bad. We put her on a door and then put her on top of a Jeep and wheeled her out to the ambulances because there were so many cars around. But, other than that as far as I know most of the kids got out," a rescue worker said.

An unknown number of homes have been destroyed.

Mercedes and Marissa Miley rode it out in a storm shelter and lived to tell the tale.

"We've lived in Oklahoma all our lives and this is the first time I've ever heard it. We were down in the storm shelter and I went to pick her up early from school. We actually heard it go over us with our ears popping, this is something we've never experienced," Mercedes Miley said.

"My mom told me not to look up. I was just holding my mom tight and was frightened," Marissa Miley said.

"We were pulling walls off of people.  There were people crawling out from everywhere and anywhere, basically just a war zone," witness Thomas Earson said.

There is a lot of help on the way to Moore from around the region and around the country.