'Stop supporting discrimination:' Petition asks Amazon to stop donating to Boy Scouts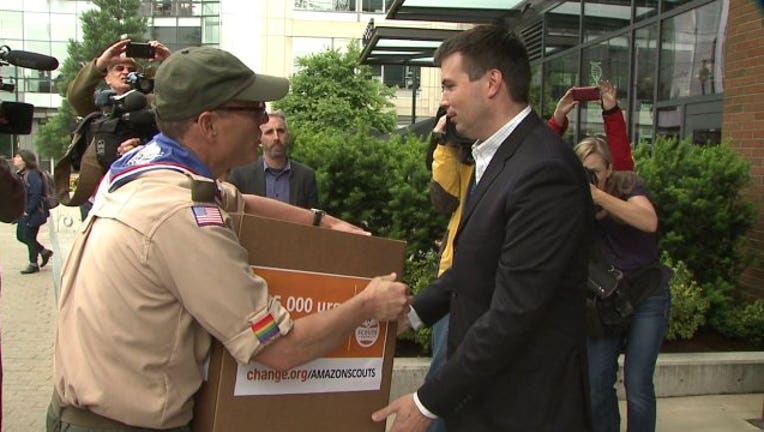 SEATTLE -- Protesters turned in more than 125,000 signatures to Amazon.com asking the company to stop financially supporting the Boy Scouts of America.

Gay rights groups joined an ousted gay scoutmaster from Seattle and a gay Eagle Scout as they delivered the signatures Wednesday to Amazon's Seattle headquarters.

Former Scoutmaster Geoffrey McGrath says Amazon is violating its own anti-discrimination policy with its charitable 'AmazonSmile' program. That program prohibits discrimination based on sexual orientation.

"That's their policy," McGrath said. "It's a good policy, but Boy Scouts of America has a long history of showing contempt for gay people, for the needs of gay kids and kicking gay adults to the curb."

Nearly one year ago, the Boy Scouts of America voted to change its policies and allow gay scouts whiles till banning gay scout leaders.

Among those who delivered signatures was a Seattle-area Eagle Scout who has a twin brother who's also an Eagle Scout and gay. They decided to gather signatures after approaching Amazon with their concerns and not hearing back.

"I'm here, BSA and Amazon, that the sexual orientation of my twin brother has nothing to do with the content of his character and is none of your business in the first place," the Eagle Scout said.