Statewide traffic delays expected this weekend, WSDOT says
SEATTLE – If your weekend plans include traveling on Interstate 90 between Seattle and Spokane, or using any of the highways in and around the greater Seattle area, prepare for traffic backups starting Friday  through Monday morning, the Washington State Department of Transportation said Wednesday.

Last weekend, westbound travelers on I-90 between Ellensburg and North Bend experienced delays up to 90 minutes. On northbound I-5, drivers saw up to 60-minute delays between SeaTac and Tukwila.

"We have a busy construction season well underway here in the Seattle area and across the state," said WSDOT Traffic Engineer Mike Swires. "Drivers need to plan ahead for congestion and backups while our contractors continue important work to keep the roads safe."

Events and road construction affecting traffic into Seattle

WSDOT said to expect heavy traffic into Seattle throughout the weekend because of road projects on I-5 and other highways. Several events in the city will also draw large crowds and add to delays.

Roadwork:


 

Events:


 

I-90 between North Bend and Ellensburg

Both directions of I-90 have lane reductions for several projects between North Bend and Ellensburg. Expect heavy eastbound traffic and delays beginning early morning Friday, June 23, as drivers head for Paradiso at the Gorge and Hoopfest in Spokane.


"Each of these events will attract large crowds from Western Washington. When added with summer vacationers, this will create major delays on westbound I-90 most of the day Sunday into late evening," WSDOT said.

It said crews will not work on I-90 during the weekend. However, the lanes remain closed because some sections of pavement have been removed. Crews will replace those later this summer.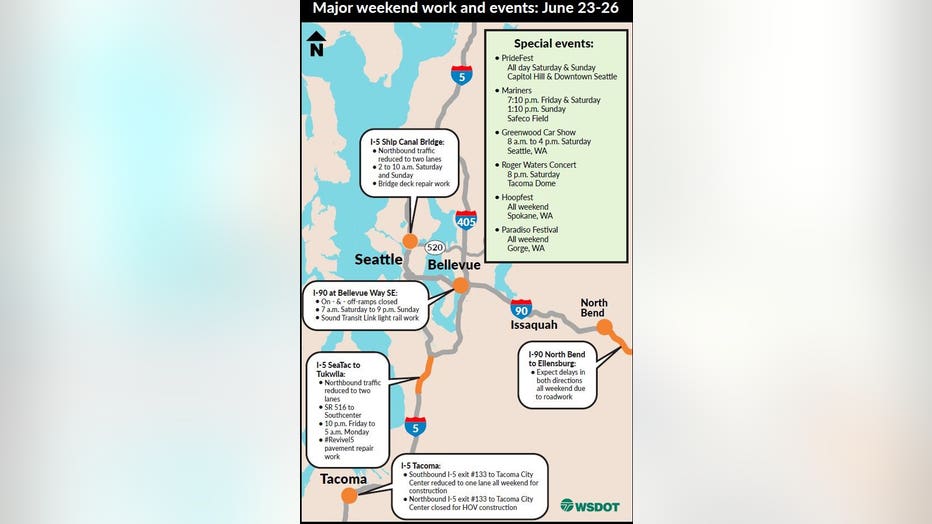 Hyperlinks: