State Route 530 bypass near Oso opens to grateful, grieving communities


OSO, Wash. -- The long trip around the mudslide zone is finally over for people in Darrington, Oso, and Arlington.

A bypass is now open alongside SR 530, cutting commute times to a fraction of what it used to be after the March 22 mudslide cut the highway between Arlington and Darrington and forced people to find other ways to get from one city to another.

Before, it took people two hours to drive from Arlington to Darrington; with the new bypass, it takes only about 15 minutes.

The Washington State Department of Transportation stresses the bypass is only intended for locals.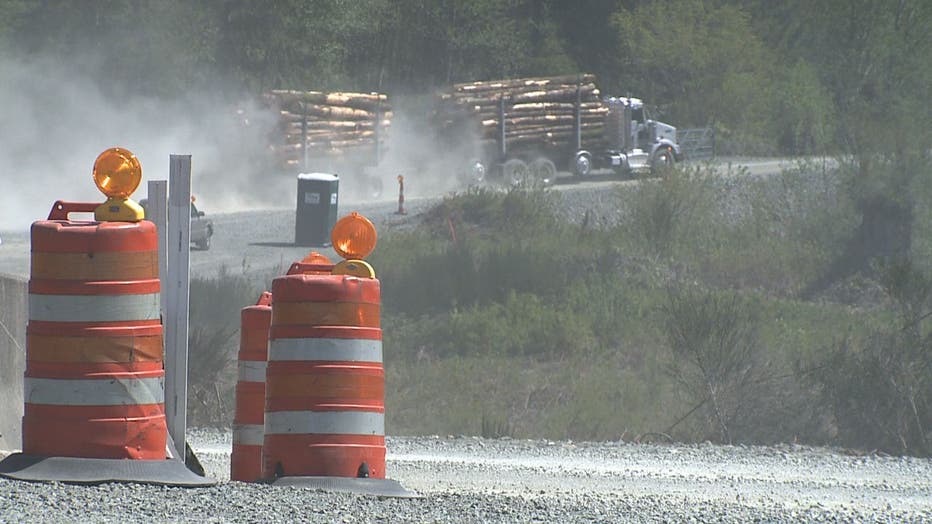 It may only be dirt and gravel, but for locals, the bypass roadway means so much more.

"It's a somber thing, a lot of lives were lost," said Sabrina Cannell of Darrington. "It's almost as if it's a grave site."

The bypass is a lifeline for the people living along SR 530 and the scenery is a grim reminder of where at least 41 lives were lost and two others are missing and presumed dead.

The bypass is only wide enough for one lane and a pilot car takes drivers all the way through. It took crews five weeks to clear and build the roadway.

Now that it's open, businesses in the area can finally start to get back to normal.

"We really need it to help our town," said Nicole Burckhardt of Darrington. "Our economy is just going to crash if the mill has to close."

Between the hours of 5 a.m. and 5 p.m. trucks haul logs to the mill in Darrington, all while crews down below the bypass continue clearing the massive mudslide debris field.

"To many families, this is sacred ground," said Cannell.

The bypass is only temporary. State officials still have to clear out what's left covering SR 530.

WSDOT hopes to reopen SR 530 by autumn.

 

Meanwhile, Washington state and the Federal Emergency Management Agency (FEMA) will close the three Snohomish County Disaster Recovery Centers (DRCs) at 6 p.m. Saturday, May 10. The FEMA help line will continue to be available to provide guidance for survivors of the March 22 SR530 Slide.

The DRC staff members have been able to field questions and supply information to more than 800 survivors since they began operations on April 7.

For those affected by the slide who have yet to visit a DRC, the three centers will be open and fully staffed until the close of business on May 10 at:

Oso Fire Station (Snohomish County Fire Protection District 25 - parking lot)

21824 State Route 530 NE

Arlington, WA 98223

 

Arlington Department of Public Works

154 West Cox Ave.

Arlington, WA 98223

 

Darrington Ranger District Office (Parking Lot)

1405 Emens Ave. North

Darrington, WA 98241

 

Operating hours are from 11 a.m. to 8 p.m. Monday through Friday and 10 a.m. to 6 p.m. on Saturdays. The DRCs will not be open on Sunday, May 4.

To reach the FEMA help line, call 1-800-621-FEMA (3362).  Survivors who use TTY should call 1-800-462-7585 directly; for those who use 711 or Video Relay Service (VRS), call 1-800-621-3362. The toll-free telephone numbers will operate from 4 a.m. to 8 p.m. PDT, seven days a week. To get information online, visit: www.DisasterAssistance.gov or m.fema.gov.