State agency gets an earful over I-90 tolling idea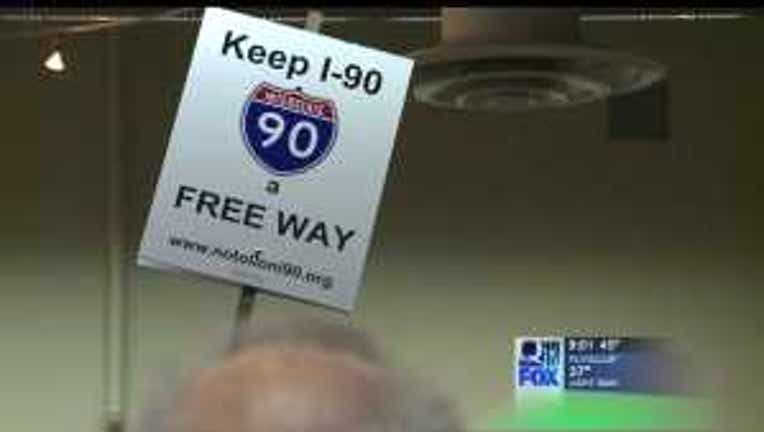 MERCER ISLAND -- Opposition to placing tolls on the Interstate 90 bridge between Seattle and Bellevue was in clear evidence Tuesday night at the Washington State Department of Transportation's first public meeting on the idea.

The meeting was held from 4-7 p.m. at the Mercer Island Community Center. WSDOT said state lawmakers have asked the agency to study the environmental, financial and other impacts of tolling I-90.

More than 100 people packed the community center to try to voice their opposition and their anger.



They came with signs, petitions and even cash to help finance a grass-roots movement against the proposal.

"I live on Mercer Island. It is terribly unfair. There has got to be another way to fund the highway system," said Beth Brenner.

Tolling on I-90 would raise more than $1 billion. But many of the Mercer Island residents at the meeting expressed disbelief that tolling would even be considered on the span.  Many were also angry at how Tuesday night's event was set up; people thought they would be able to voice their concerns, but instead they were asked to write down their comments.

Many residents, like Terry Coe, were expecting an open mic forum. Coe said it was a violation of his First Amendment rights. He pulled down from one wall a paper WSDOT sign asking people not to distribute materials at the event.

"It's offensive," said Coe.

And many told WSDOT exactly how they felt during a limited question and answer session.

"The whole system was no toll, but bit by bit by bit you lied to the population," yelled one man.

Another, Mercer Island resident Fred Weiss, said that "95 percent thinks it should not be tolled. We've been told for the last 40 years it wouldn't be tolled."

"It sounds like we need to get to our legislators now, and it is not too early," said one woman.

"A lot of people think, 'Oh Mercer Island, there is a lot of wealth there.' But there is a lot of retired people here; look in this room," said resident Marilyn Wellnatz.

"I'm really upset; I am ready to march," said Brenner.

A grass-roots movement is in full swing against any attempt to place tolls on the Interstate 90 bridge between Seattle and Bellevue.  It is called No Toll on I-90.

"Clearly there are effects on the economy, and so I appreciate the concerns; that is why we are going through the process," said WSDOT official Craig Stone.

Additional public meetings will be held at Bellevue City Hall Jan. 30 from 4-7 p.m. and at the Yesler Community Center in Seattle on Jan. 31 from 4-7 p.m.

There is also an online open house for public comment. Click here to comment on I-90 tolling.

WSDOT will turn in its final report by end of this year in time for the Legislature to consider in 2014. If approved by lawmakers, tolling on I-90 could begin as early as late 2015.