Standoff with gunman in Bellevue ends after more than four hours


BELLEVUE -- A standoff between a gunman suspected in a Renton Highlands shooting and sheriff's deputies who surrounded him in a car at a Bellevue strip mall parking area ended peacefully Wednesday night when the man surrendered after more than four hours.

No one was injured.

The incident started just before 6 p.m. Wednesday when detectives in the unincorporated Lakemont area of Bellevue spotted a suspect from a shooting Monday in the Renton Highlands.

"They located the suspect in the parking lot here. He was in the parking lot in a car, apparently his girlfriend was with him. When they approached him, he pulled out a gun and pointed it in his mouth and, of course, they automatically backed off for safety reasons," King County sheriff's Sgt. Cindi West said.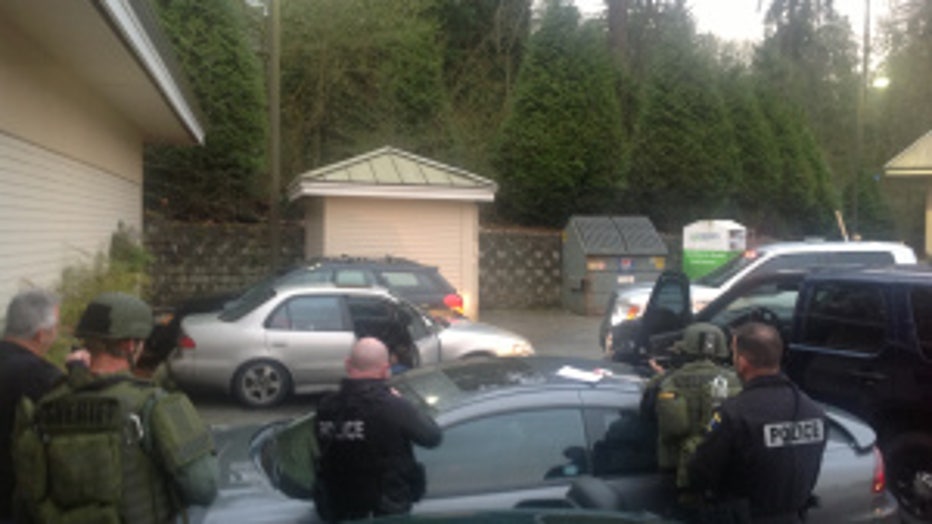 (Photo: King County Sheriff's Office)


Detectives called in reinforcements, who surrounded the car, while they tried to talk the man into surrendering. In the meantime, Lakemont Boulevard SE was closed off and employees and customers in a nearby store were locked down inside.

Finally, at about 10:15 p.m., the man surrendered peacefully.