SPEEA vote split: Some head back to the bargaining table, strike still looms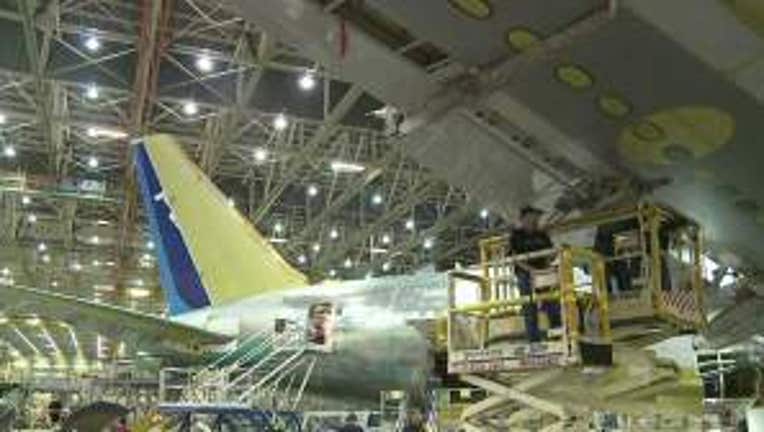 EVERETT -- The Society of Professional Engineering Employees in Aerospace (SPEEA) Union split over a vote on whether or not to accept Boeing Co.'s latest contract offers, effectively sending some of the union and its 22,000 members back to the bargaining table.

More than 18,000 members voiced their opinion in union-wide voting that ended at 5 p.m. Tuesday. The group, made up of Boeing engineers and technicians, are split over whether or not to accept the contracts offered by Boeing.

According to union leaders, the engineers voted to accept the new contract 5,691 to 4,810. The technical group rejected the latest contract offer 3,014 to 2,801. That group also voted to authorize a strike.

According to leaders, the tech group will return to the bargaining table in hopes of reaching a new agreement with a national mediator. If not, a strike is still possible.

A split decision by SPEEA hasn't been issued since the 1990s.



Leaders of SPEEA recently urged members to reject Boeing's latest contract, which included a cut in the retirement contribution plan. Union leaders have previously said a strike wouldn't start until March. 1.

Formal negotiations with SPEEA began April 19. SPEEA's contract with Boeing was scheduled to expire Oct. 6, 2012, but was extended. The contracts covered about 15,600 professional engineers and 7,800 technical workers, mostly in the Puget Sound region. Boeing executives previously have asked SPEEA members to roll over on the union's 2008 provisions, with one change to the contract that would initiate a 401(k) retirement plan instead of a pension plan.

After the vote, Boeing officials released a statement saying they are pleased with the engineers, but "deeply disappointed that technical employees rejected the compnay's best-and-final offer."

SPEEA leaders called the new plans a "significant cut" in retirement contribution. Ray Goforth, the executive director of the SPEEA, said the contract was largely a good offer, outside of a "poison pill" retirement package. He said everyone hired beginning in March would have 40 percent less in their retirement plan compared to those hired prior to March 1.

"The employer has inserted a poison pill into the contract, that would end up hurting everyone," Goforth said.

Dennis Davaz, a SPEEA member, said he voted to not accept the new contract.

"There's no reason for a take away right now with as well as Boeing is doing," Davaz said.

But Boeing officials said they put forth a substantial contract with adequate benefits.

"It's important that we protect our competitiveness in the long-run, even if that means some short-term pain," Boeing Co.'s President Ray Connor said.

Connor said the latest offer was one that recognized the "tremendous contributions and skills" that engineers brought to Boeing.

"Nobody wins in a strike," Connor said. "While hurting Boeing and our employees, it would also impact our customers who've put their trust in Boeing's people and products."

If the techs go on strike, all commercial production will stop. Gov. Jay Inslee released a statement following the vote, saying he was concerned about the split vote, and he urged the union and the Boeing Co. to come to an agreement.