Spanaway man pleads guilty to killing wife, 11-year-old daughter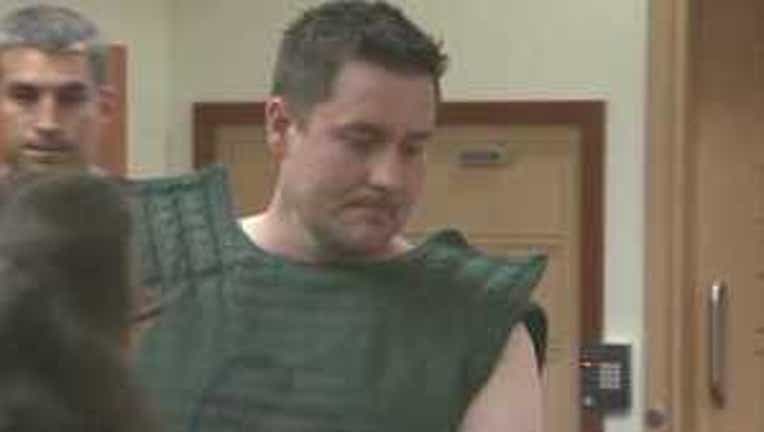 article
TACOMA -- Dean Holmes, the Spanaway man charged with shooting his wife and 11-year-old daughter before heading through a McDonald's drive-thru, pleaded guilty Tuesday to two counts of aggravated murder in Pierce County Superior Court.

Holmes, 40, changed his plea from not guilty, Pierce County prosecutor Mark Lindquist said. With the change in plea, he faces life in prison without parole or the death penalty.

Lindquist has until Tuesday, Nov. 20 to decide on whether or not to ask for the death penalty in sentencing.

A not guilty plea was originally entered Aug. 30. in the case.

Detectives said Holmes walked into the Pierce County Sheriff's Department early morning on Aug. 29 and said he had shot and killed his wife and their daughter the day before.

Officers responded to Holmes' residence in the 15500 block of 20th Avenue Court East and found two people dead in the bedroom — his wife, Kristi Holmes, 41, and their daughter, Violet Holmes, 11.

Detectives said Holmes told them he had shot his wife while she was sleeping about 6 a.m. Aug. 28. He then said he woke up his daughter and her cousin, who was also staying at the home.

Holmes then took the two girls in his car to the cousin's home in Auburn, where he dropped off the girl and then continued to drive around with his daughter.

Detectives said he told them he pulled the car over in Spanaway and shot his daughter while she was sleeping in the backseat of the car. He then went through a McDonald's drive-in, with his daughter still in the backseat and ordered some food. He then went home where he placed his daughter in the same bed where his wife was and said he then drove around aimlessly.

The Sheriff's Department said Holmes told them he attempted to clean up the home for several hours and then decided to turn himself in to authorities.

Lindquist said the "horrendous crimes" shocked the community, and that the change in plea will bring some closure to all those affected.

"The defendant has taken full responsibility by pleading guilty as charged today," Lindquist said. "The deadline for my decision to whether to seek the death penalty is Tuesday, Nov. 20. I have not yet made a decision but what happened in court today will be a factor but not the only factor to consider."

Outside the courtroom in August, Jerry McNulty, his former brother-in-law and friend, called the turn of events "surreal. I don't know what else to say. It's a situation that he must have put himself somewhere (that) none of us can even fathom. I can't even imagine."

"I`m just here as a family member, somebody that wants to understand what happened to him, what made him go to this extreme," McNulty said.

Pierce County prosecutors charged Holmes with two counts of aggravated first-degree murder --  the highest allowable charge for murder in the state.

In a statement released by Lindquist in August, Holmes reportedly told detectives that he had put his family in a dire financial situation, including telling his wife they were moving into a new home, and he feared his wife would leave him once she found out he had been lying to her.

He said he killed his daughter because he did not believe she could cope with the death of her mother and his impending imprisonment. He also said he tried to kill himself, but couldn't pull the trigger.

Holmes has been booked into Pierce County Jail on two counts of first-degree murder. He will be arraigned Thursday. If convicted, Holmes faces a life sentence without parole or the death penalty.