Southern California wildfires spur mass evacuations as wind whips flames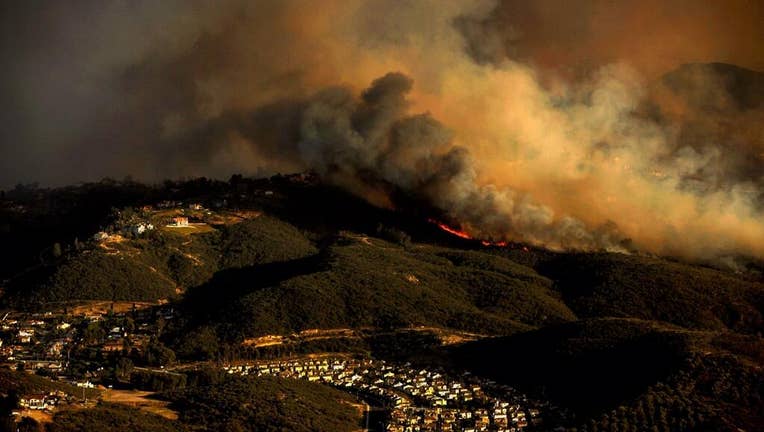 (CNN) -- Southern California firefighters were fighting five wildfires Wednesday in and around San Diego, prompting at least 23,000 evacuation notices to residents, businesses, schools and parts of a Marine Corps installation.

San Diego County proclaimed a local emergency Wednesday afternoon due to "at least five wildland fires burning," the county said. At least 20 structures were destroyed. The emergency allows the county to more easily access state and federal resources.

WATCH LIVE COVERAGE:  FOX5 SAN DIEGO

Statewide drought, hot, dry Santa Ana winds, low humidity and 90-degree-plus temperatures conspired to quintuple the number of wildfires Wednesday, which began with 350 firefighters fighting a 1,500-acre wildfire in San Diego.

But by noon, a second fire had erupted 20 miles away in Carlsbad, burning 100 acres and prompting the evacuation of thousands of people and a resort.

Then, a third ignited on Camp Pendleton, a training base, where a 700-acre fire led to the evacuations of the military's O'Neill Heights Housing, the De Luz Child Development Center and Mary Fay Pendleton Elementary School, the Marines said.

Another fire burned in the community of Fallbrook, adjacent to the military post. Camp Pendleton is the West Coast boot camp for enlistees. Details on the fifth fire were not immediately available.

Southern California Edison has executed a precautionary evacuation of the San Onofre nuclear power plant, SCE spokeswoman Maureen Brown said. "There is no safety threat as a result of the nearby Camp Pendleton fires," she said.

The ferocious fires made for sensational, disturbing viewing.

"Oh, my God! Oh, my gosh!" California resident Kristin Michalec said on a video she shared with CNN as she drove through raging flames in Carlsbad, near where she lives.

"It was so hard to see because of the thick smoke," she later told CNN in an interview.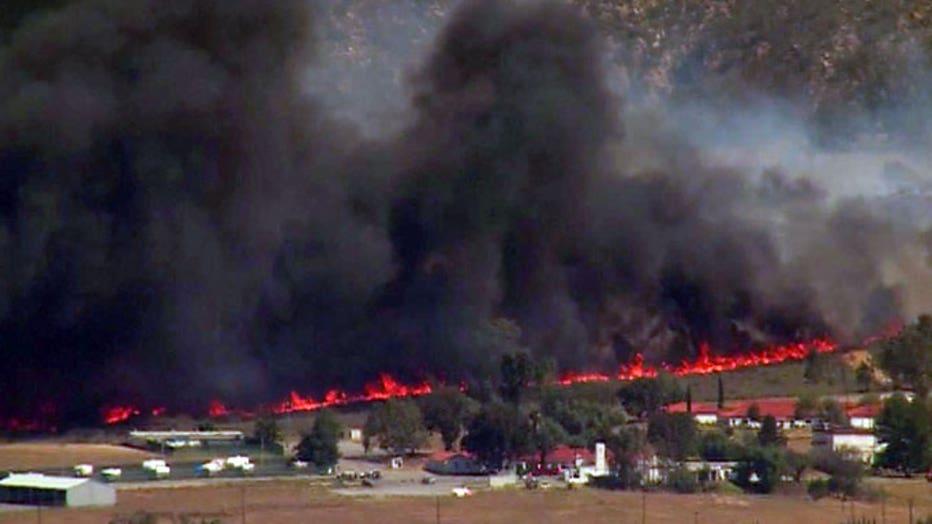 Camp Pendleton Photo by FOX5 San Diego


Rich Breeze saw a burning house explode in Carlsbad.

"No one hurt that I know of. Everyone was out of the house at the time," he said. "We were just right there when it exploded. It was just super intense.

"The fire was just incredible. It was beyond anything you've ever seen before," he said.

Jay Ringgold, an information technology manager in Carlsbad, smelled the smoke easily. Santa Ana winds, also called devil winds, whipped up the fires.

"People were very surprised that it came that close to the business district. There are a lot of big companies there -- near that is a brush area and homes," Ringgold said. "Everyone was panicking and wanting to get out of there."

San Diego fire officials were trying to spare some of their crews to assist Carlsbad, where a 100-acre wildfire prompted a mandatory evacuation.

 



"We're trying to free resources to send to Carlsbad, which also has a serious fire going on and is just across the freeway," said San Diego Fire Department spokesman Lee Swanson.
"Humidity is 3 to 4%, and it's about 100 degrees," he added.
Carlsbad officials said Wednesday afternoon that "mandatory evacuations are in progress" in that city's so-called Poinsettia Fire.
San Diego County said more than 11,000 residents, businesses and cell phones in Carlsbad were notified to evacuate, but an exact number wasn't immediately available, the county said on Twitter.
The Poinsettia Fire also prompted the evacuation of amusement park rides at Legoland in Carlsbad, the resort said on its Facebook page. Carlsbad officials said they alone issued 23,000 evacuation notices, including to three schools.
Most of those notices were mandatory, with the remainder as advisory, said Carlsbad Fire Chief Michael Davis. Fifteen homes were damages or destroyed, he said.
By mid-afternoon Wednesday, the forward progress of Carlsbad's wildfire was "stopped," Davis said.
In his 27 years in the fire service, he's never seen California's wildfire season start so early, Davis said. That season typically begins in October or so, he said.
Firefighters were igniting backfires in hills as a preventive measure against the wildfire and any possible advances on a residential neighborhood.
"This is extreme. This has gone from dry conditions to volatile conditions," said a Carlsbad firefighter after using a torch to ignite backfire. "This isn't something we don't normally see until November or September."