South Kitsap High students protest budget cuts


PORT ORCHARD -- Budget cuts have students fuming in one local school district. Kids at South Kitsap High School marched down busy streets, protesting cost-saving measures that killed 68 positions – including 61 teachers.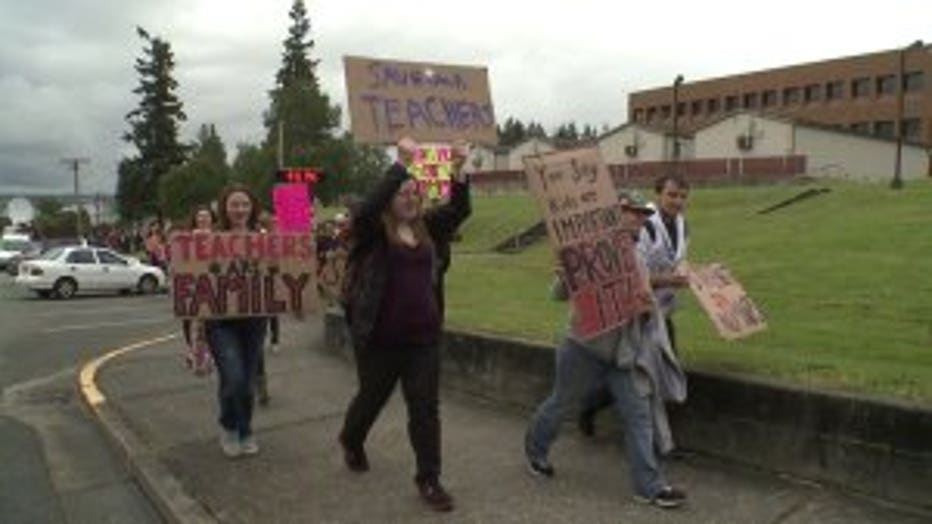 "Higher class sizes really means that the teachers aren't going to be able to work one on one with the students," said student Vincent Bachteler. "Everybody's going to have struggles learning and that really hurts the whole educational system in the school district."

Nearly 100 kids marched through Port Orchard streets – and cars honked approving their message.

The protest is a last-ditch effort after the school board voted last week to eliminate 61 teaching positions. The district has been burning through cash reserves but now they need to make deep cuts to mend a $3 million budget shortfall for next year, and officials say cutting positions is the only way.

But state Sen. Nathan Schlicher, D-Gig Harbor, says lawmakers need to work to make sure class sizes don't balloon.

"I need people out there marching in the streets saying it's time we do something," said Schlicher. "The (state) Supreme Court made it clear, it's time to fund McCleary and move on."

The kids hoped to change the school board's mind about the cuts, but now the decision is out of the board's hands.

"It's gonna hurt our educational system because with so many students in the class it's really going to hurt the learning process," said Bachteler.

Now it's up to state lawmakers, who are in special session right now, to find the cash needed to make up the budget shortfall.