Sounders announce Craig Waibel as club's new general manager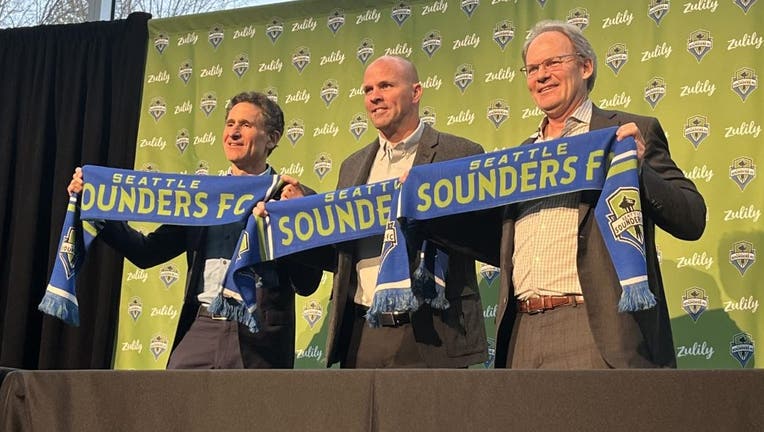 article
SEATTLE - The Seattle Sounders announced Craig Waibel as the club's new general manager and chief soccer officer on Wednesday.
"What an awesome day," Waibel said at a press conference Wednesday afternoon. "A club that I've known my entire life and an unbelievable opportunity to come in here and share this opportunity and this leadership and I look forward to really embracing all of it."
Waibel has been the Sounders' Senior vice president of soccer operations and sporting director since April 2021. Prior to that, Waibel was the GM at Real Salt Lake for five years. Waibel becomes just the third G.M. of the Sounders' MLS franchise following majority owner Adrian Hanauer, and Garth Lagerway, who left te team earlier this month.
"Craig has deep roots in this community," Hanauer said of Waibel. "He understands our culture. He understands our fans. He understands the people in the organization. He understands our players. All of that wrapped around kind of a culture piece that is always so important to me. I say this a lot, but organizations win and lose together. It is the sum of the parts. It's not an individual. And something I really appreciate with Craig is he absolutely gets that. He knows that it is going to take everyone in the same boat rowing the same direction for us to continue to have success win championships."
Lagerwey was named as president and chief executive officer of Atlanta United on Nov. 2.. Lagerway had been general manager and president for Seattle since 2015. Seattle won this year's Concacaf Champions League title and MLS Cup championships in 2019 and 2016. Seattle reached two additional MLS Cup finals under Lagerwey's leadership.
"This club would not be as evolved and successful and have as many trophies without his time here," Hanauer said of Lagerway. "(I) had an amazing eight years working with Garth and he will forever be a part of the Sounders history and a super important part of that history."
Waibel played collegiate soccer at the University of Washington from 1995 through 1998. He began his pro career with the Seattle Sounders of the A-League for two seasons before an accomplished 11-year run in MLS with the Colorado Rapids, LA Galaxy, San Jose Earthquakes and Houston Dynamo. 
Waibel made 175 appearances in MLS games and netted eight goals with 16 assists. He was a part of four MLS Cup winning teams in 2002 (Galaxy), 2003 (Earthquakes), 2006 and 2007 (Dynamo). The Galaxy won the Supporters' Shields with the most points in the MLS in 2002 and won the Lamar Hunt U.S. Open Cup title in 2001 with Waibel as well.
Waibel began coaching in college for a year at Michigan and two years at Washington before joining the staff at Real Salt Lake in 2014.
"As we see his career progressing, as I've watched the last year and a half of him interacting with my staff, with people in the organization. He's a really tremendous people person. And that's what I appreciate. And so I'm looking forward to an opportunity to do good things," head coach Brian Schmetzer said.
"Garth came here and did a good job. We've all done a good job. This organization is set up through the efforts of many, many people to be successful. And we are just going to share in our commitment to work together to try and keep that standard high and continue to win games and work in unison with all of the people in the organization to make sure that we can rise to the opportunity of the 50 years (of the Sounders), and also, of course, the (FIFA Club) World Cup, which is just going to be massive."
Waibel said his job is to keep the standing going that the Sounders have set through the years and that he doesn't believe anything significant needs to change as he steps into the G.M. seat.
"I think we need to believe in what we have," Waibel said. "This group won the Champions League last year. And I think we're a little unfortunate with some injuries throughout the year to some key components of our group. But this is a darn good group. And It's one that I firmly believe in. And I think in the short run if we can strengthen it without overhauling it, It's probably the best approach."