Snowstorm slams Northeast; Seahawks fans struggle to get home
NEW YORK (CNN) -- If you believe that a groundhog with a funny name can predict the weather, get ready for another six weeks of winter conditions.
Punxsutawney Phil, the famed groundhog in Pennsylvania, saw his shadow Sunday, on Groundhog Day. And for at least the next few days, his wintry forecast will play out for much of the eastern U.S.
At least 6 inches of snow is expected to fall Monday on New York, CNN meteorologist Chad Myers said. With temperatures dipping below freezing Monday night, that'll lead to an icy glaze over the city.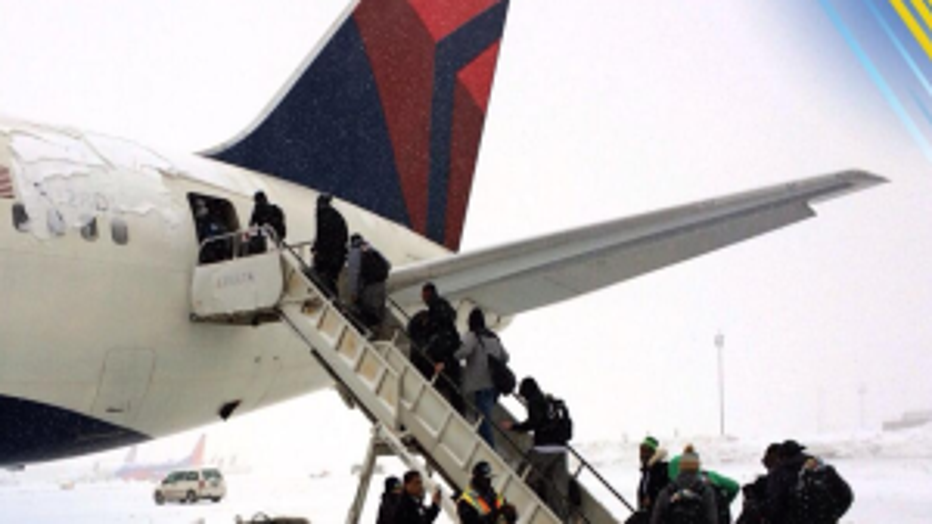 Seahawks players leaving a New York City area airport among a snowstorm.
Philadelphia will also get pummeled with up to 10 inches of snow,Myers said. Schools there are closed Monday.
Slushy, wet snow was already falling in much of the area Monday morning.
The wintry weather snarled air travel just a day after the Super Bowl brought people from across the country to the Northeast.
By 11:30 a.m. Monday, more than 1,400 flights had been canceled within, into or out of the United States, according to FlightAware.com tracking data.
The majority of the cancellations occurred at Philadelphia International, Newark Liberty International and LaGuardia airports.
Some hotels in the area were preparing for stranded Super Bowl spectators to stick around.
At Homewood Suites by Hilton in East Rutherford, New Jersey, about a mile and a half from the stadium where the Seattle Seahawks beat the Denver Broncos in Sunday's Super Bowl, some guests had extended their stays Monday morning. Others checked out early because of the weather, General Manager Tom Martucci said.
As the National Weather Service issued a winter storm warning for the region, local media warned commuters to watch out for icy roads.
"Here we snow again," The Star-Ledger newspaper in New Jersey posted on its website.
Nurse Traci Curci of Levittown, Pennsylvania, told CNN affiliate WPVI she was prepared to hunker down at work as the weather gets worse.
Speaking from the driver's seat of her car as snow pelted the area Monday morning, she said that when bad weather hits, it's all hands on deck. And she said there's another reason to stay put: parking.
"There's not going to be a parking spot shoveled out for me at home," she said, "and I can park at a garage at work."
New York Mayor Bill de Blasio told WNYC's "The Brian Lehrer Show" on Monday that the Big Apple was buckling down, salting roads as the snow picked up.
"We have gone very aggressively at this storm," he said.
The city's Department of Education said after-school programs had been canceled and warned of slippery roads.
For more information on this story, click here.