Snow falls at Snoqualmie Pass! Winter Weather Advisory issued for south Cascades


SEATTLE -- And just like that, we've gone from sunny skies to snow in the mountains!

The snow began falling Thursday morning at White, Stevens and Snoqualmie passes.

Q13 News Meteorologist M.J. McDermott says the first Winter Weather Advisory of the season has been issued for the Cascades of Pierce and Lewis counties, White Pass and Paradise near Mount Rainier.

Get the free Q13 News - Weather app for severe weather alerts wherever you are

2-4" of snow is possible with 4-8" at higher elevations. The snow level will rise from 3,000 to 3,500 feet Thursday afternoon.

Any snowfall at Snoqualmie Pass will likely be short-lived.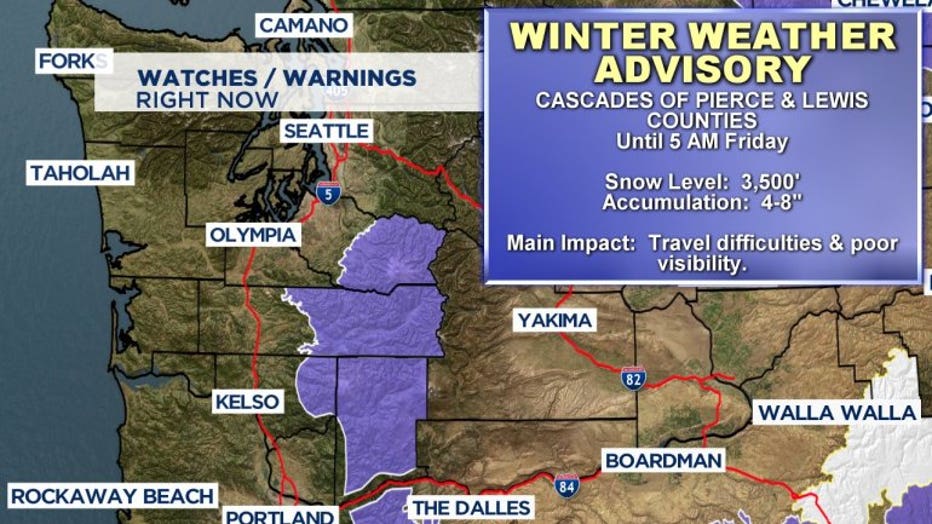 First Winter Weather Advisory for the season for Cascades of Pierce & Lewis counties.


Rain in the lowlands

Q13 News Meteorologist Katie Boer says the lowlands will see up to 1/2" of rain with highs around in the low 50s:



Temperatures will climb back toward the 60s by Monday.